55" X7000E LED 4K Ultra HD (HDR) Smart TV
Replaced by
55" X70F LED 4K Ultra HDR Smart TV
Features
4K HDR TV with 4K X-Reality PRO, one button YouTube and ClearAudio+.
Uncover the detail with 4K HDR
Enhanced 4K detail with 4K X-Reality PRO
Access You Tube and more with built-in Wi-Fi
Recommended by Netflix
Netflix have created an easy way for you to identify TVs with better performance, easier app access, and new features that make for a better smart TV.
Netflix Recommended TVs help you to enjoy popular shows and movies with a dedicated button and voice control.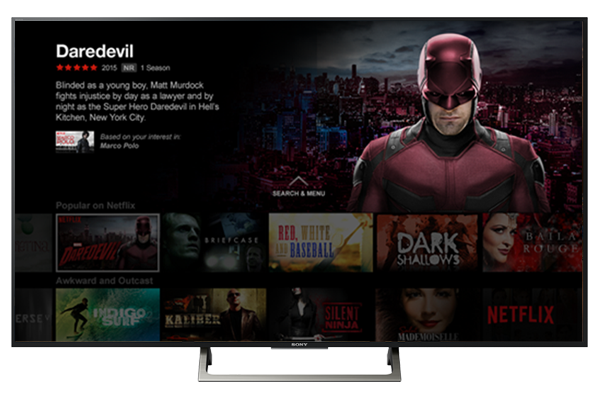 Learn about Netflix

Freeview Plus is a television service accessed through the broadcast signal and delivered via broadband that makes content search and discovery easy and seamless by providing access to live and catch up TV from free-to-air broadcasters with the simple press of a button.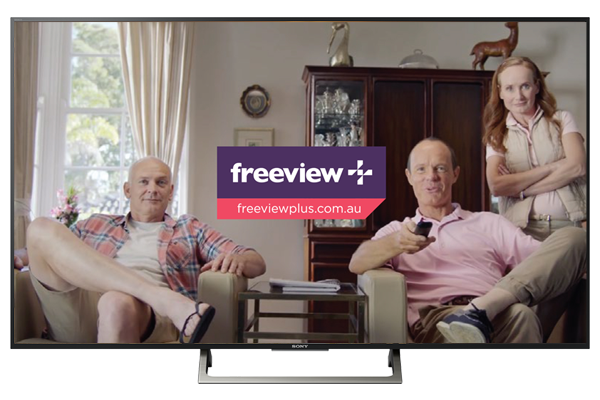 Learn about FreeviewPlus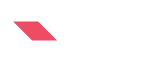 Now you can access all of the available Catch Up TV programs in one place on your TV. Go backwards in the program guide to find available Catch Up programs or go straight to the network's Catch Up service.

Find out what's on Freeview over the next 7 days and go backwards to see what's available on Catch Up TV. Freeview Plus lets you keep watching while you browse other channels and shows.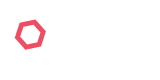 Looking for a specific show or movie? Feel like comedy? BROWSE by genre or SEARCH by the program's title. Freeview Plus makes it easy to find your favourite programs and discover new ones!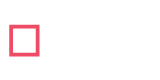 KEEP all your favourites listed in one place and access them with a simple press of a button. This way you'll know when your favourite show is on again and when it is about to expire in Catch Up.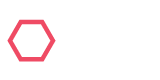 If there's a program you don't want to miss, simply SET a reminder. Freeview Plus will let you know when your program is about to start. That way, you won't miss a thing!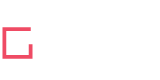 Not sure what's on TV? "Featured" can help. It highlights the best of what's on today, in the next 7 days and on Catch Up TV. It's a great snapshot of the best of what's on across Freeview.
How do I use Freeview Plus?
Once you've connected your Freeview Plus product to the aerial and internet, just press the green button on the remote control to launch Freeview Plus.
To find out how to use Freeview Plus, why not watch one of our step by step instructional videos?
Key Features
Great entertainment wirelessly with built-in Wi-Fi
Link up easily to your home network. With built-in Wi-Fi, you're free to go online and browse movies, enjoy video channels like YouTube and access services such as on-demand TV. Best of all, you can stream entertainment from your wireless home network and the Internet without the clutter of cables.
Your smartphone on the big screen
Screen mirroring lets you enjoy content and apps from your smartphone on your Sony TV. Supersize all your memories and enjoy them on the big screen with family and friends.
Super multi-format USB play
Enjoy your favourite digital content from any USB stick. Play music, video clips and view photo collections all through your TV with super multi-format USB play. Supporting a wide range of codecs, you can experience ultimate format versatility, simply plug in and you're ready to go.
Experience the best in 4K UHD picture quality
Our range of 4K UHD TVs deliver stunning picture quality and are compatible with the Digital Europe UHD requirements.
Turn your TV into a digital recorder: USB HDD REC
Store your favourite TV shows on an external USB hard disk drive to enjoy whenever you want. USB HDD REC allows one-touch and timer recording of a digital broadcast onto any USB HDD device up to 2TB in capacity. While viewing the show, simply press REC to start recording, which will automatically stop at the end of the programme.
Enjoy HDR gaming with PlayStation
Sony's 4K HDR televisions are perfect partners for PlayStation4 and PlayStation4 Pro consoles. Immerse yourself in a responsive, fun-filled gaming experience with vivid textures and intensely vibrant colours. See your favourite games come to life with the incredible picture quality.
Be online instantly with one button YouTube
Go straight to YouTube and enjoy all your favourite videos. We have made YouTube faster than ever on this internet ready TV and included a YouTube button on the remote control for easy browsing.
Narrow aluminium frame
The narrow frame helps the TV look slim and attractive, focusing the eye on the screen for maximum entertainment.
Cable management
Keep wires out of sight. All of your cables can be neatly arranged across the back of the TV and channelled into the stand, so everything looks tidy.
Uncover the detail with 4K HDR
A High Dynamic Range (HDR) compatible TV will change the way you look at TV. Combined with 4K Ultra HD resolution, HDR video content delivers exceptional detail, colour and contrast, with a far wider range of brightness than other video formats. The result is the most lifelike picture TVs have ever been able to create, with brilliant highlights and fine detail.
Specifications
Availability
Released

2018

Discontinued

2017
RECOMMENDED BLU-RAY PLAYER
RECOMMENDED 4K ULTRA HD BLU-RAY PLAYER
RECOMMENDED SOUND BARS
RECOMMENDED HOME THEATRE HEADPHONES
This product is searchable
Search for this product by using any of the following codes or IDs

KD55X7000E
4548736051263
KD-55X7000E
KD-55X7000E AZ1