Portable USB Charger 5000mAH (White)
Details
https://store.sony.com.au/archived-portable-power/CPV5AW.html
Product Actions
This item is currently unavailable
Features
Portable USB charger, with supplied Micro USB-B cable, provides two smartphone charges on the go.
5,000mAh Lithium-ion battery
Compatible with all smartphones
Offers 2 charges on the go
Key Features
Enjoy up to two charges on the go
Whether you want a quick power boost or a full charge, the CP-V5A's battery can recharge your smartphone up to two times before it runs out. Take it camping, on long-haul flights, or simply use it as a back-up power supply.
Compatible with most smartphones
One size fits all with this portable charger, so you can still use it when you change handsets. Thanks to the supplied micro USB cable, you'll be able to charge almost any phone - as well as small tablets, cameras, portable speakers, and more.
Micro USB
Never run out of power again. The CP-V5A comes packaged with a micro USB cable, so you can recharge the battery once you land, wherever you land.
Check your charging with four handy LED indicators
The unit is equipped with a 4-stage LED battery indicator so you can check at a glance whether you have enough power to charge your smartphone, or whether it's time to recharge the CP-V5A.
Easy portability from a slim, lightweight design
The portable CP-V5A weighs just 135g, so you'll be able to pick it up, pop it in your bag and go anywhere. At only 13.1mm thick, 116mm long, and 65mm wide, this charger is approximately the size of a small smartphone - making it great for those who travel. Plus, the clean, sleek design makes it the perfect addition to your existing tech accessories.
Choose from a range of stylish colours
Keep your tech accessories colour-coordinated. This portable charger comes in a range of stylish colours, so you can choose the one that matches your personal style.
1.5A output
Recharge your smartphone as quickly as if you would be charging through AC
Powerful 5,000mAh capacity lithium-polymer battery
The CP-V5A houses a Sony-made rechargeable battery. Made of lithium-ion polymer, the built-in battery has a charge capacity of 5,000mAh - allowing up to 2 charges of a smartphone.
Specifications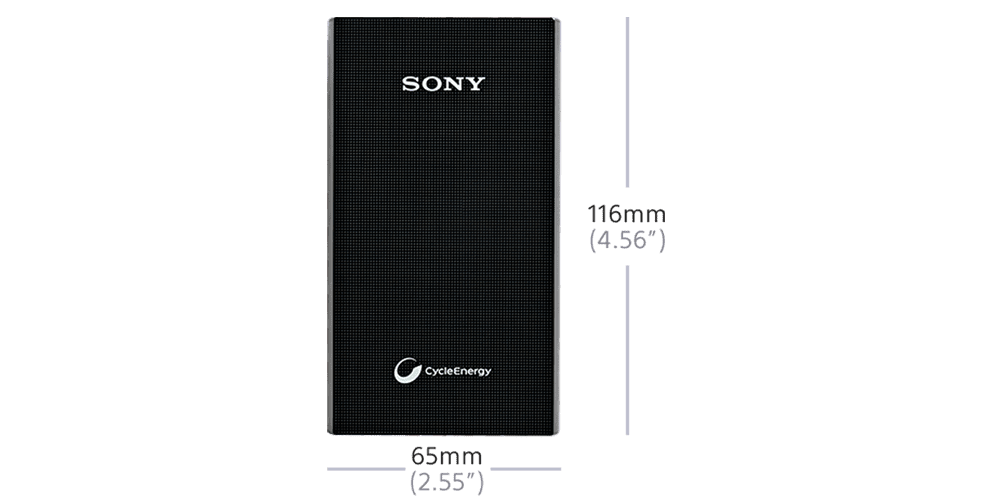 This product is searchable
Search for this product by using any of the following codes or IDs

CPV5AW
CP-V5A
CP-V5A/WC ULA