AX53 4K Handycam with Exmor R CMOS sensor
4K Ultra HD (3840 x 2160) recording of more subtle detail and colour
Balanced Optical SteadyShot with Intelligent Active mode
26.8mm ZEISS Vario-Sonnar T* lens with optical 20x zoom range
Details
https://store.sony.com.au/video-camera/FDRAX53.html
Product Actions
Request a price match*

Delivery
Shipping & Delivery: Timeframes shown are subject to change. Delivery cut-off times are based off AEST, and approximate business days. *Shipping defined as departure from warehouse
Request a Price Match
Request a price match, and if successful we'll respond soon.*
Make sure to create a Sony account and leave a phone number.
What can I request for a price match?
Your request may be eligible for price matching if it is:

An identical model
The product must be a matching brand, model number and colour to be eligible.

Available to purchase
We may match selected local retailers (including their online prices) once verified and item must in stock or pre-order online or in store.

Not shown on our exclusions list
Exclusions apply including, but not limited to, competitor's service prices, special or hourly sales, bonus buy offers.
See our full list of exclusions

A local retailer
The retailer must have a local business number (ABN/ACN or NZBN) and be registered for Goods and Services Tax ("GST").

Request a Price Match online or in-store
After reviewing the above criteria, follow the simple steps below:
Find a Qualifying Product
While online, find a qualifying product from a local retailer's website that would like to request a price match from. Make sure the product is identical to our product (model number and colour). The price must be current on the day of request and available to purchase at that price. The retailer must have a local business number (ABN or NZBN) and be registered for Goods and Services Tax ("GST").
Fill out the form to request a Price Match
On selected pages, fill out the form and submit your request. Note, some models are excluded. Please be prepared to direct our support staff to the ad or website that is displaying the current lower price you would like to match.
Should your price match request be successful, we will contact you and update your shopping cart. Make sure to create/sign into your account and add the product to cart to make this quicker.
Find a Qualifying Product
Find a qualifying product that you want Sony to price match from a local retailer. Make sure the product is identical to our product (model number and colour). The price must be current on the day of request and available to purchase at that price. The retailer must have a local business number (ABN or NZBN) and be registered for Goods and Services Tax ("GST").
Price Match In Store
Take your catalogue, flyer, or printed email into one of our Sony Stores to request a price match.
Price Match Details & Exclusions
If you have any questions, contact us here or simply submit a price match a request.
Advanced features for great movies
The performance packed into the top-class 4K Handycam® is peerless. Balanced Optical SteadyShot™ and Fast Intelligent AF achieve exactly the images you aim for. A new microphone structure captures ambience that's all-surrounding. You can even play with time in motion or gain control of pro-style/manual functions. The possibilities and pleasures are endless.
Product Gallery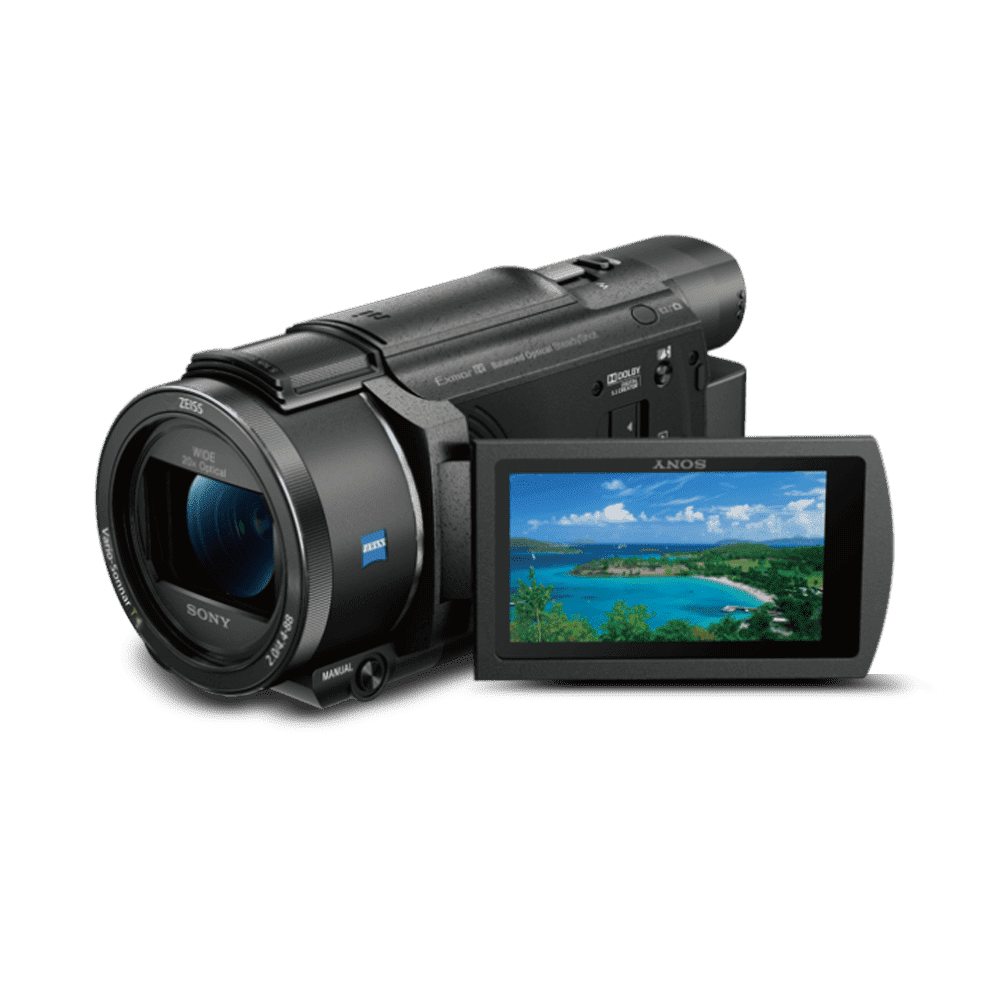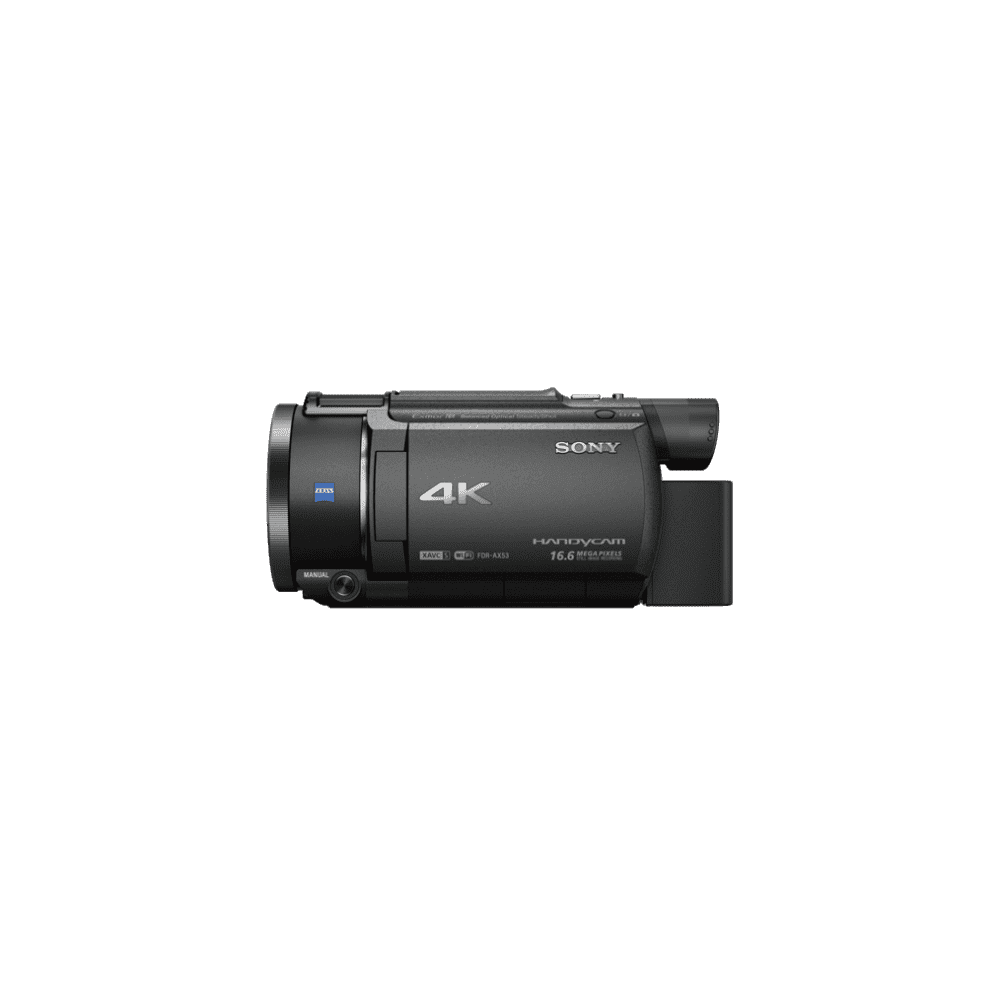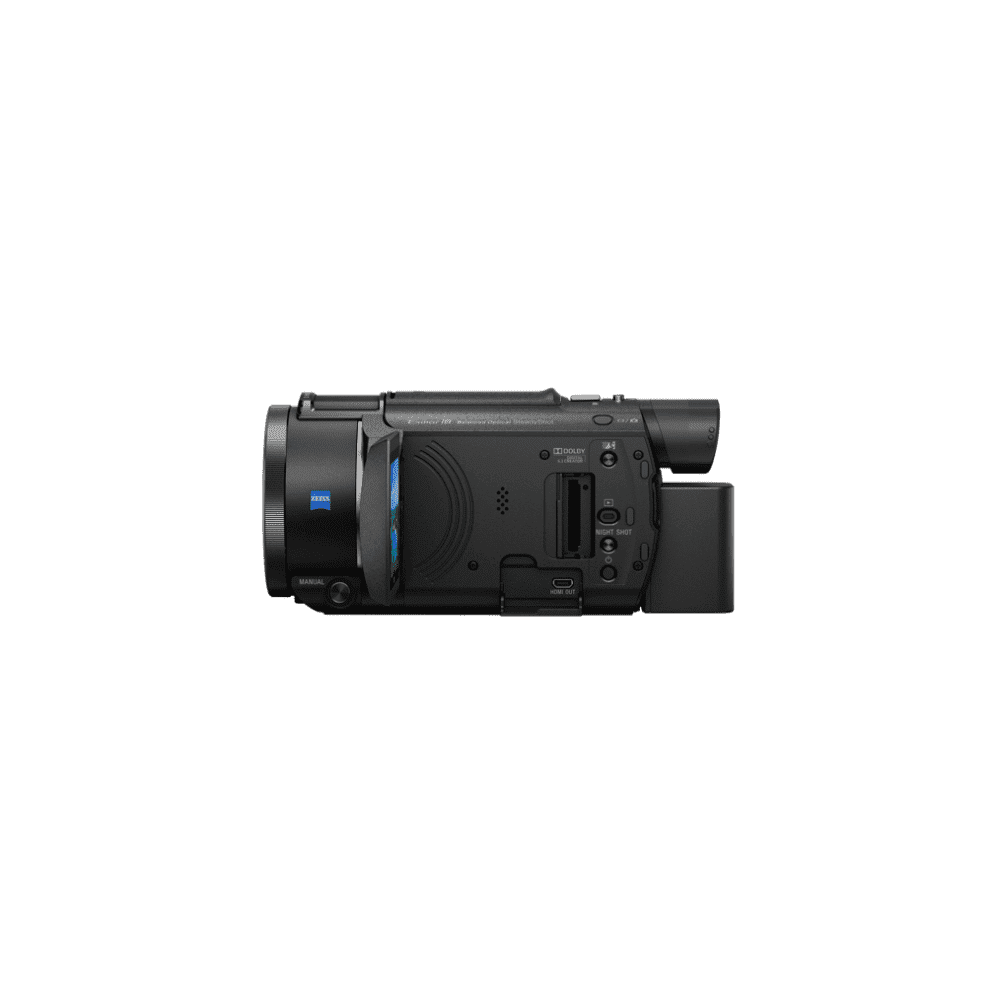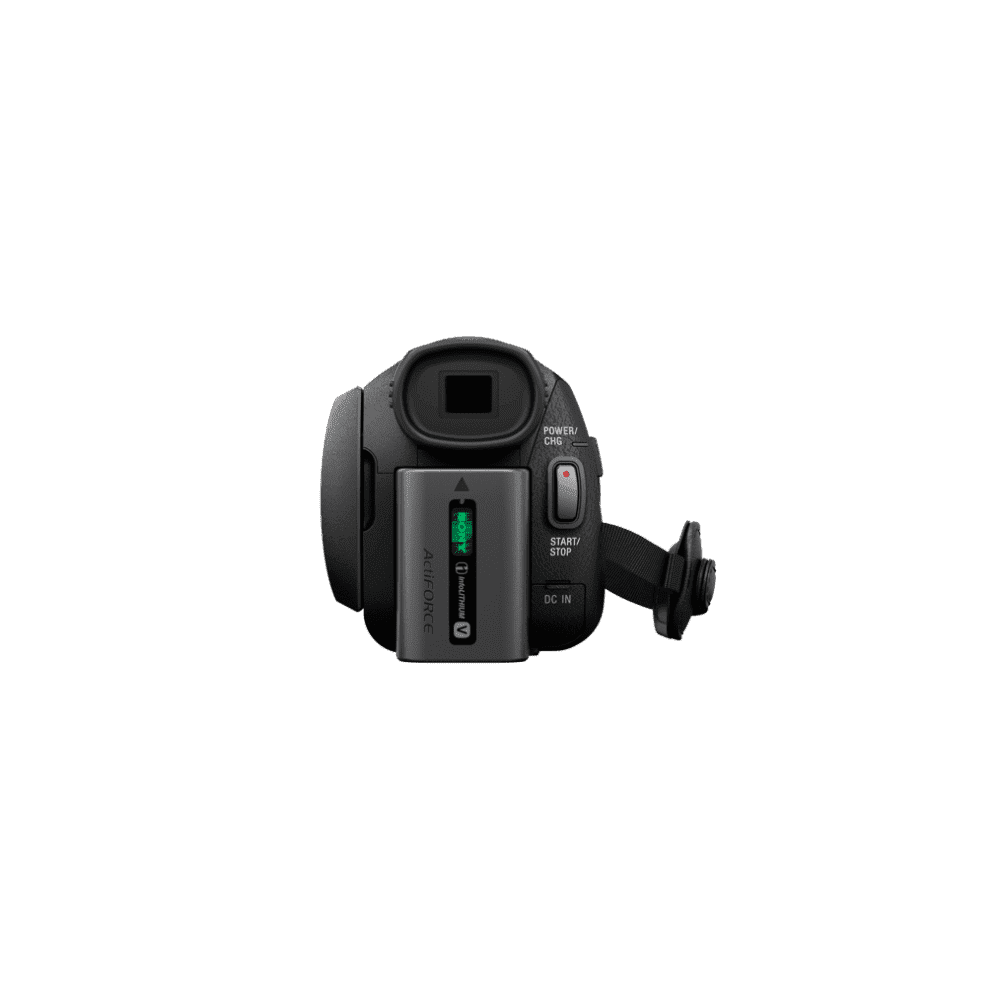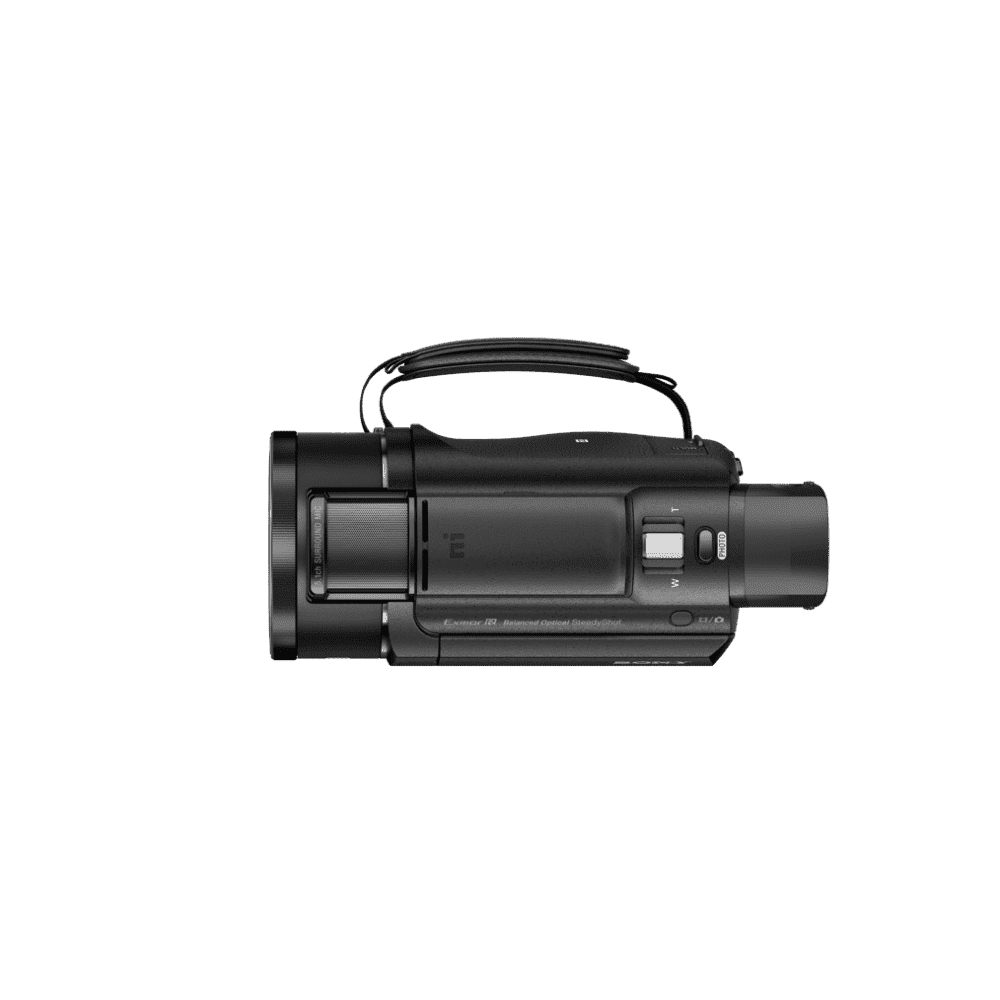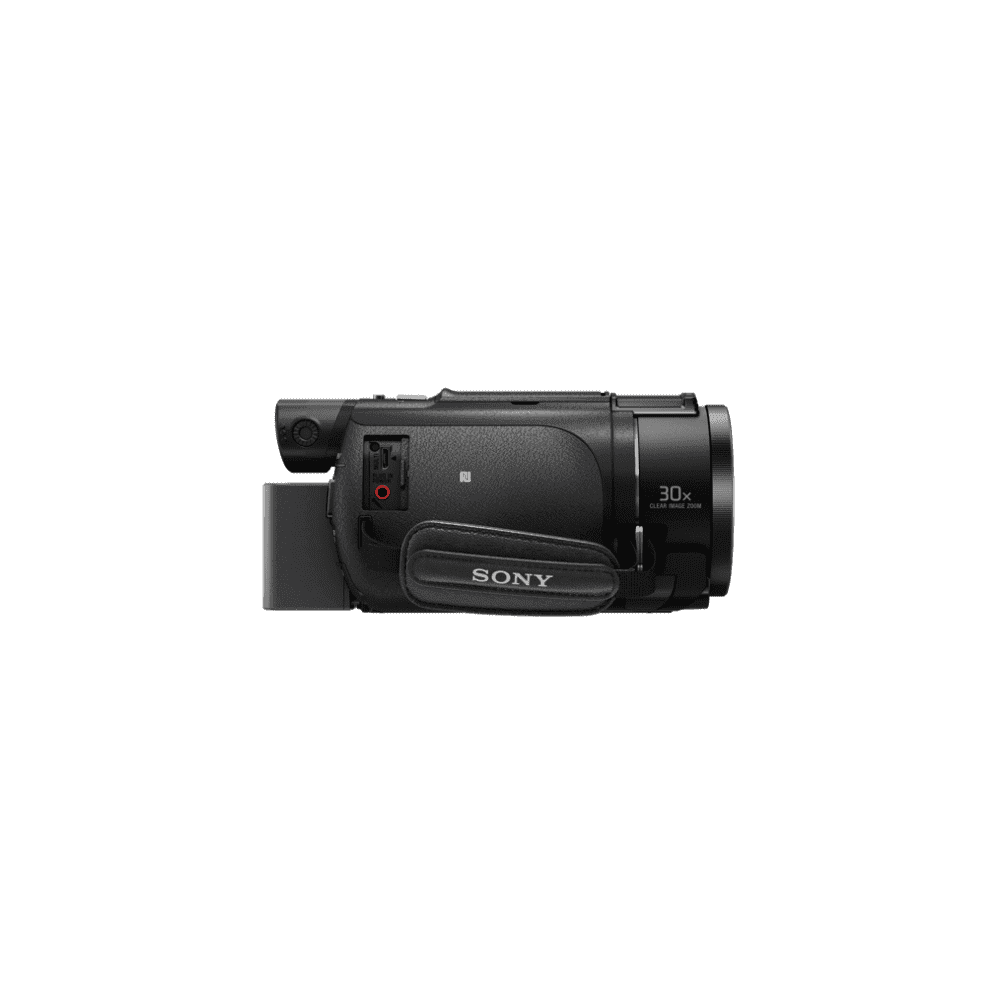 Key Features
4K image quality
Shoot 4K footage that contains about four times more detail than Full HD (3840 x 2160 pixels vs. 1920 x 1080) footage, and capture more of the incredible qualities that bring images to vibrant life.
New image sensor exclusively for 4K
A newly developed image sensor, with pixels of approximately 1.6 times bigger size, offers superior sensitivity for capturing beautiful high-quality images with less noise under dark as well as bright shooting conditions.
New ZEISS Vario-Sonnar T* lens for 4K
This new lens helps to depict remarkable details of high-quality 4K images throughout its wide-angle-to-telephoto range. The use of an AA (advanced aspherical) lens not only keeps depiction faithful - it also keeps the lens unit compact. ED (Extra-low Dispersion) lens helps to ensure accurate reproduction of colour. Multilayer ZEISS T* Coating further enhances image quality by reducing unwanted reflection, such as ghost and flare.
Up to 26.8mm wide angle lens
Whether you're shooting movies or still images, the class-leading wide-angle lens can help you capture more of landscapes and indoor scenes, when you don't have enough room to step back. Even without a wide conversion lens, the camcorder shoots as wide as 26.8mm (16:9 aspect ratio) in movie mode.
Balanced Optical SteadyShot
Advanced image stabilisation suppresses camera shake to stabilise a movie as it is being shot within the wide-angle-to-telephoto zoom range. In HD shooting mode, it further reduces effects of camera shake even under unstable conditions with 5-axis Intelligent Active mode compensating for vibration in five different directions, so you can shoot stable high-quality movies even while running.
Rapid AF response to capture decisive moments
Fast Intelligent AF achieves very speedy, accurate contrast-detection autofocus by minimising lens motion, predicting the AF range, and accelerating lens drive, thereby improving response so you can capture more fleeting moments.
Extensive zoom shooting capabilities
20x optical zoom lens and Clear Image Zoom of 30x/40x (for 4K/HD) allow you to shoot faraway subjects and capture memorable moments.
Realistic recording of voices, music and other sound
Its new structural design enables the microphone to gather, from five directions, clearer sound with approx. 40% less noise and twice as effective 2ch stereo (for XAVC S shooting) and three times as effective 5.1ch surround (for AVCHD shooting) sound performance. This makes it possible to faithfully reproduce audio with clearly defined separation.
High Speed REC in Full HD for high-quality slow motion
Shoot in Full HD at 120/100fps (NTSC/PAL), edit the footage after shooting, and the resulting slow-motion images of the movie will look startlingly smooth and sharp in playback. This is excellent for reviewing, in greater slow-motion detail, sports and everyday action that can occur too quickly in real time for you to see clearly.
4K Time-lapse Capture
You can capture 4K size still images continuously over an extensive period of time at a selected constant interval from each shot to the next, edit the entire sequence of still images in post-production, and enjoy playback of that series of images as a time-lapse movie.
My Voice Canceling
Reduce the intensity of the voice of a user shooting from close behind the camera, whether the user is talking to subjects or cheering them on.
Motion Shot Video
This convenient feature allows playback of a dramatic sequence of superimposed images to trace every split second of action, a powerful tool for analysing sports motion on screen. During playback, you can adjust the interval between images, or pause to capture still images to share with friends.
Highlight Movie Maker
A versatile function to streamline movie editing, Highlight Movie Maker offers several time-saving features. Add highlight points to key moments while recording, and let the camcorder automatically sync movie transitions to your chosen soundtrack.
Dual Video Recording
Record two movies at the same time - one in the maximum-quality XAVC S or AVCHD format and another in MP4 format. That way you've got a small file ready for instant sharing, plus a professional-grade file for further editing.
Live Streaming via USTREAM
From performances to sports events, some things are best seen in real time. Share scenes as they happen with high-quality picture and sound.
Multi Camera Control
More shots mean more editing opportunities. Easily record footage from a variety of angles, whether using cameras mounted directly to the Handycam or triggered wirelessly. Multi Camera Control makes it easy to sync shooting settings on compatible Wi-Fi connected devices.
One-touch remote and one-touch sharing
One-touch remote lets you use your smartphone or tablet as a viewfinder and remote control for a digital camera, and One-touch sharing lets you transfer your photos and videos from your camera. Either way, by installing PlayMemories Mobile app to your NFC enable Android smartphone or tablet, you can avoid complex set-up sequences and establish wireless connection simply by touching your device to the camera. You are now ready to control your camera from your smartphone to take a photo from a previously out-of-reach spot, or simply be in your own group shot, as well as transfer them instantly to your smartphone for sharing on SNS. No NFC? No problem. You can also pair the devices manually.
Xtra Fine LCD with WhiteMagic
The high-precision Xtra Fine LCD features a WhiteMagic display that uses white pixels in addition to RGB pixels to boost screen brightness, allowing users to see subtle details and tones on the screen in all types of shooting environments, including outdoors in bright sunlight.
Recommended Accessories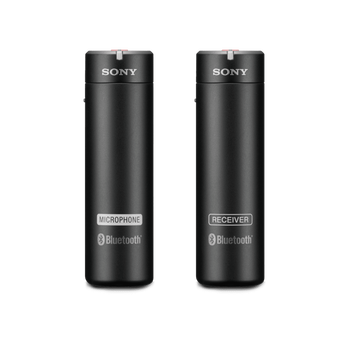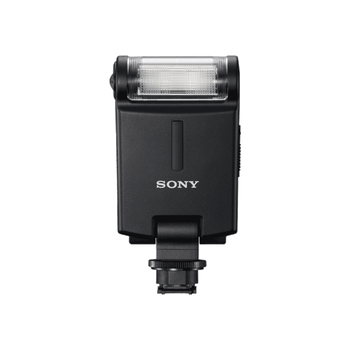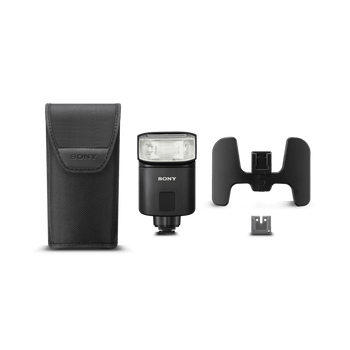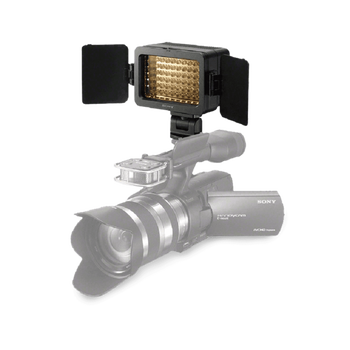 Support
Warranty
When you purchase a Sony product, you have the peace of mind in knowing that your product is covered by Sony's Standard Warranty provided by Sony Australia Limited (for Australian purchases) and Sony New Zealand Limited (for New Zealand purchases)
This product is searchable
Search for this product by using any of the following codes or IDs


FDRAX53
4548736141322
FDR-AX53
FDR-AX53/BC AU2