65" A95K | BRAVIA XR | MASTER Series OLED | 4K Ultra HD | High Dynamic Range | Smart TV (Google TV)
Details
https://store.sony.com.au/television-OLED/XR65A95K.html
Product Actions
Request a price match*

Delivery
Available to Order
Order before 8:00 am for next business day shipping*
Shipping & Delivery: Timeframes shown are subject to change. Delivery cut-off times are based off AEST, and approximate business days. *Shipping defined as departure from warehouse
Request a Price Match
Request a price match, and if successful we'll respond soon.*
Make sure to create a Sony account and leave a phone number.
What can I request for a price match?
Your request may be eligible for price matching if it is:

An identical model
The product must be a matching brand, model number and colour to be eligible.

Available to purchase
We may match selected local retailers (including their online prices) once verified and item must in stock or pre-order online or in store.

Not shown on our exclusions list
Exclusions apply including, but not limited to, competitor's service prices, special or hourly sales, bonus buy offers.
See our full list of exclusions

A local retailer
The retailer must have a local business number (ABN/ACN or NZBN) and be registered for Goods and Services Tax ("GST").

Request a Price Match online or in-store
After reviewing the above criteria, follow the simple steps below:
Find a Qualifying Product
While online, find a qualifying product from a local retailer's website that would like to request a price match from. Make sure the product is identical to our product (model number and colour). The price must be current on the day of request and available to purchase at that price. The retailer must have a local business number (ABN or NZBN) and be registered for Goods and Services Tax ("GST").
Fill out the form to request a Price Match
On selected pages, fill out the form and submit your request. Note, some models are excluded. Please be prepared to direct our support staff to the ad or website that is displaying the current lower price you would like to match.
Should your price match request be successful, we will contact you and update your shopping cart. Make sure to create/sign into your account and add the product to cart to make this quicker.
Find a Qualifying Product
Find a qualifying product that you want Sony to price match from a local retailer. Make sure the product is identical to our product (model number and colour). The price must be current on the day of request and available to purchase at that price. The retailer must have a local business number (ABN or NZBN) and be registered for Goods and Services Tax ("GST").
Price Match In Store
Take your catalogue, flyer, or printed email into one of our Sony Stores to request a price match.
Price Match Details & Exclusions
If you have any questions, contact us here or simply submit a price match a request.
Next generation picture and sound with Cognitive Intelligence
Take vision and sound to the next level with Cognitive Processor XR™. Our revolutionary processor on Sony BRAVIA XR™ TVs reproduces content the way humans see and hear for an incredibly lifelike experience. It understands how the human eye focuses, cross analysing images to give real life depth, extraordinary contrast and beautifully vivid colours.
Scenes full of contrast and brightness, precisely controlled
Powered by Cognitive Processor XR™, the unique XR Backlight Master Drive precisely controls our latest generation Mini LED backlight in this X95K 4K BRAVIA XR TV for brightness you can feel. You'll enjoy an unprecedented dynamic range with incredibly dazzling lights and deep blacks, as well as beautifully natural mid tones, with almost no flare or halos around highlights.
Product Gallery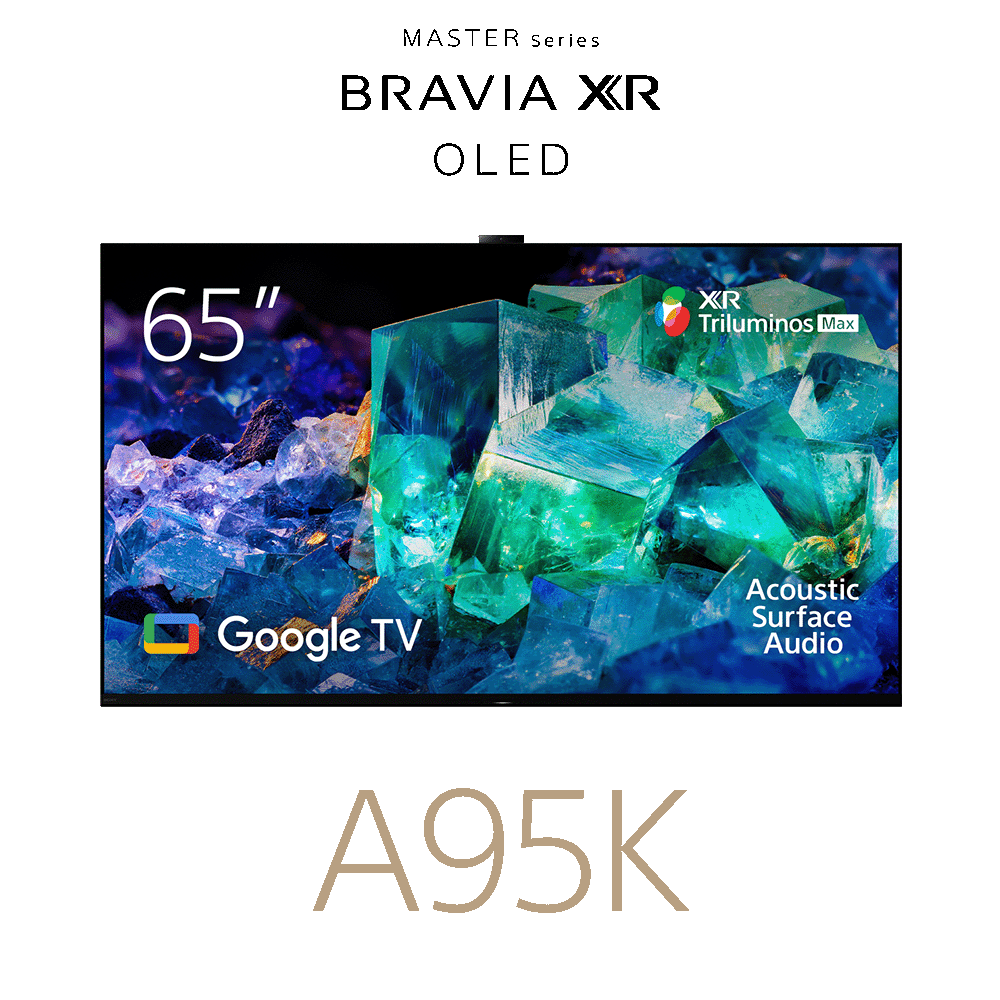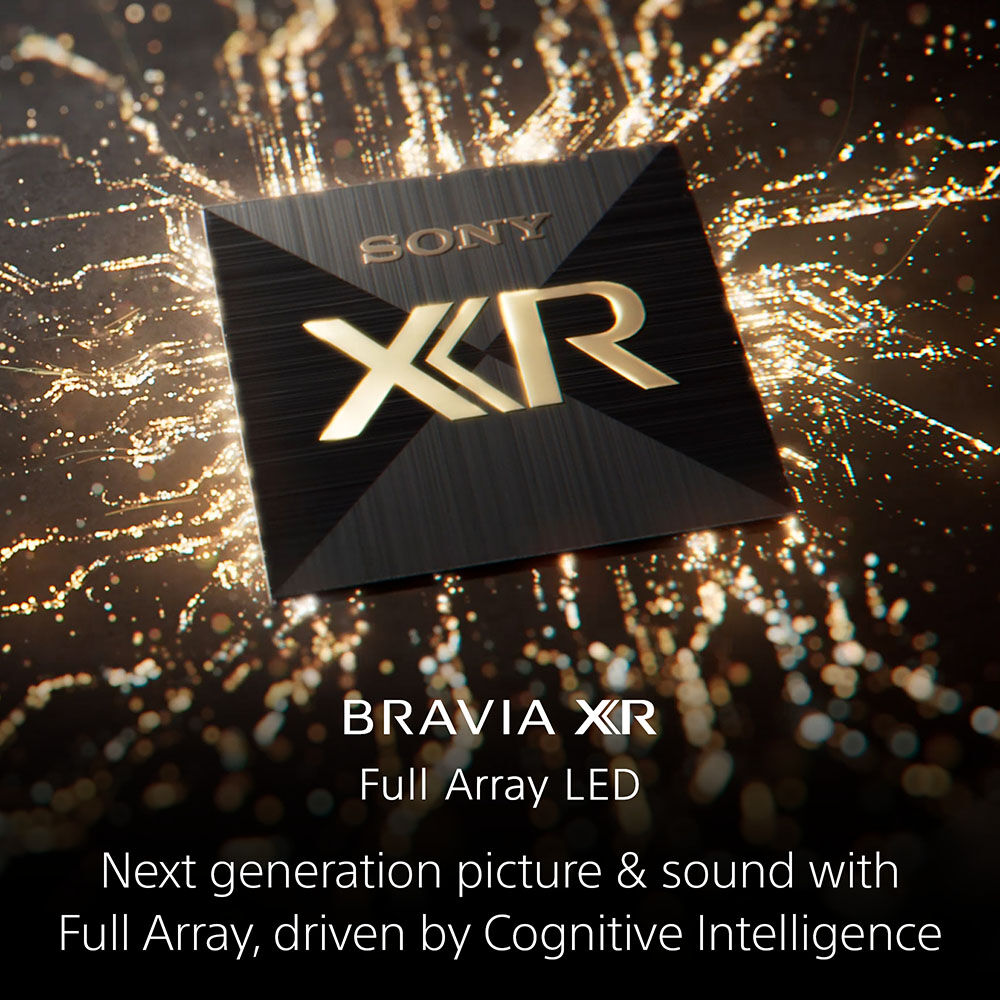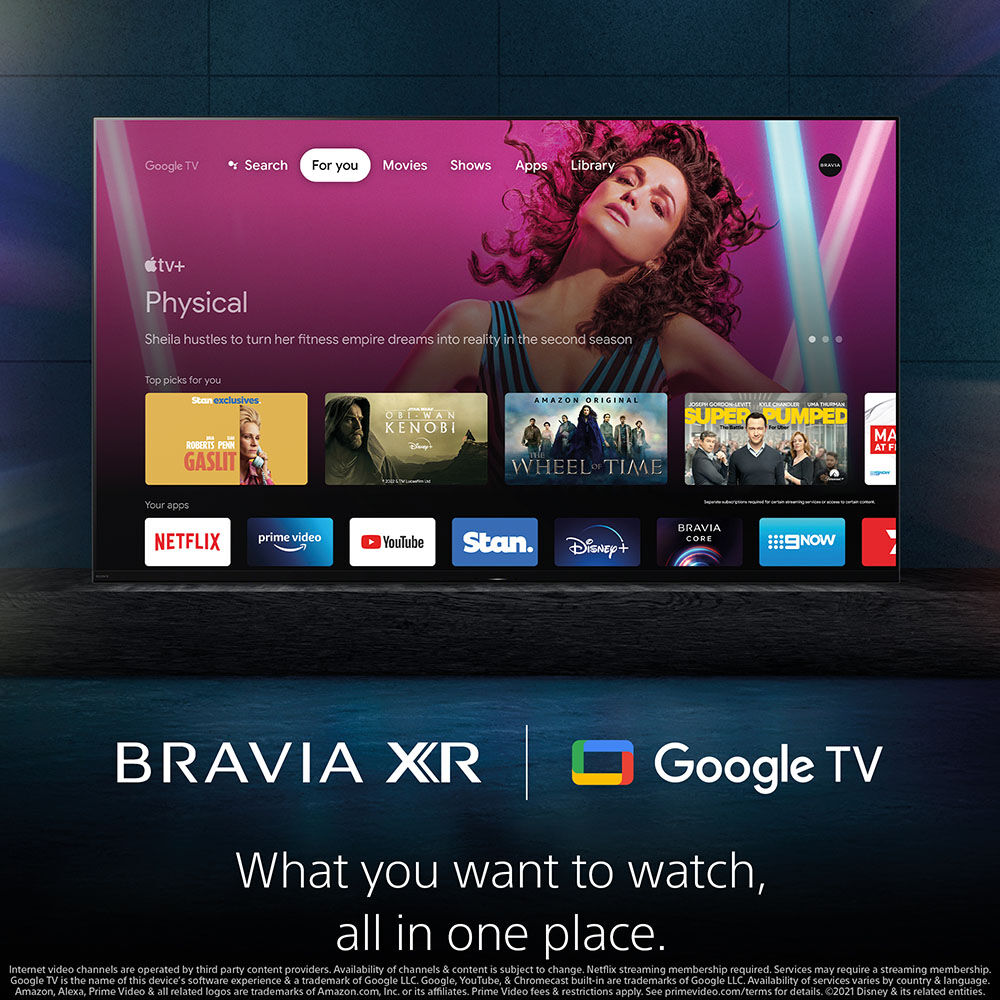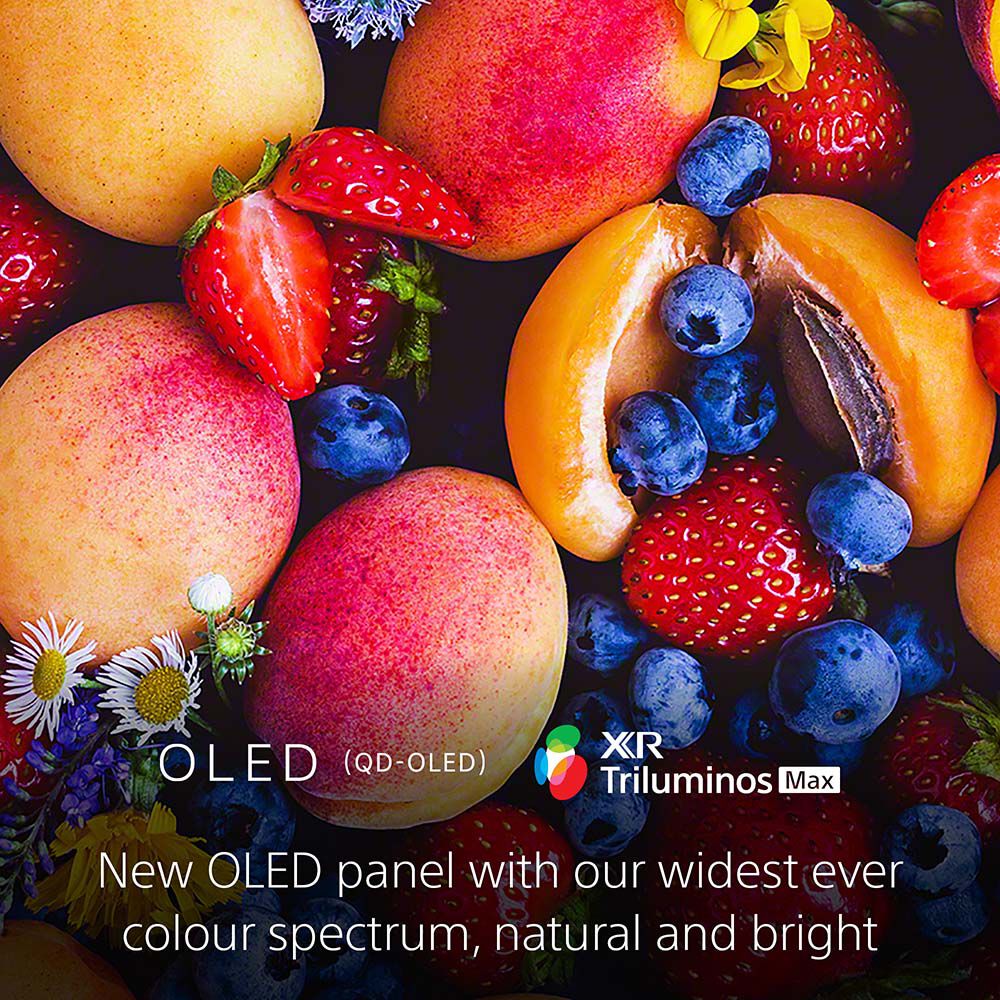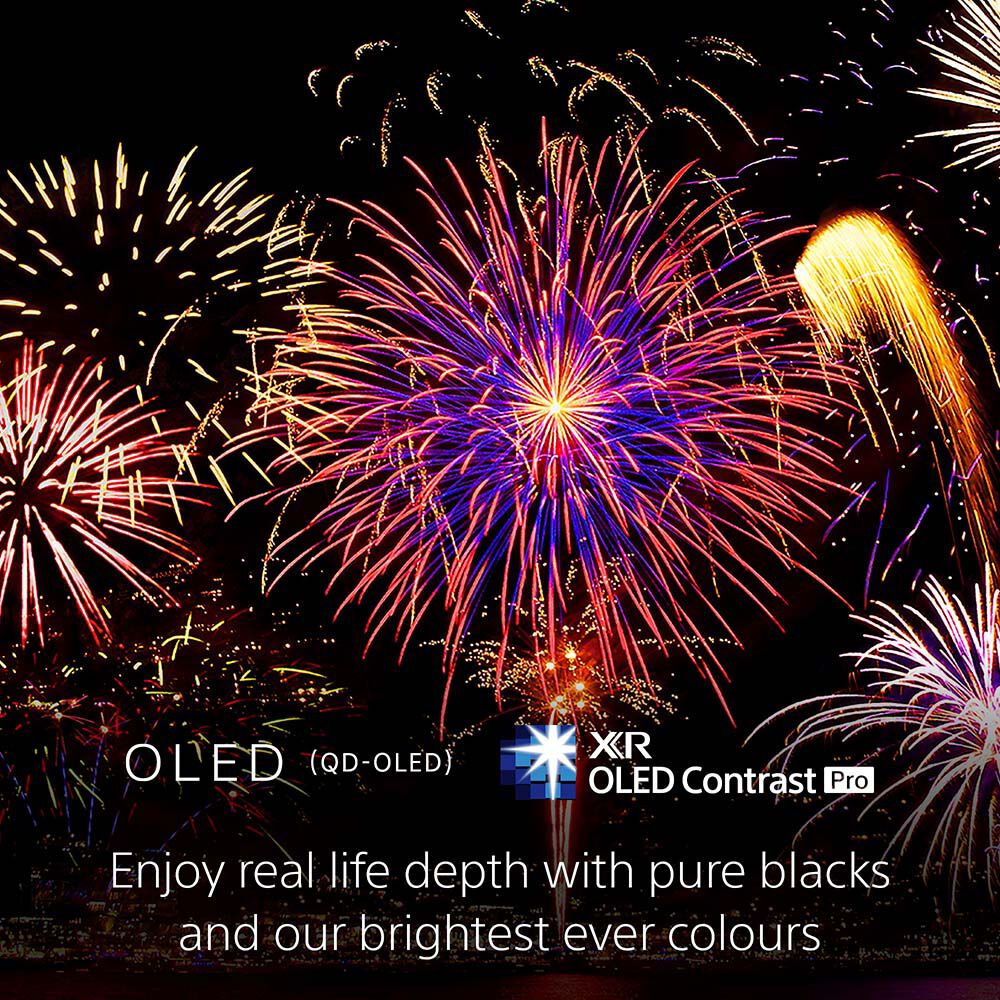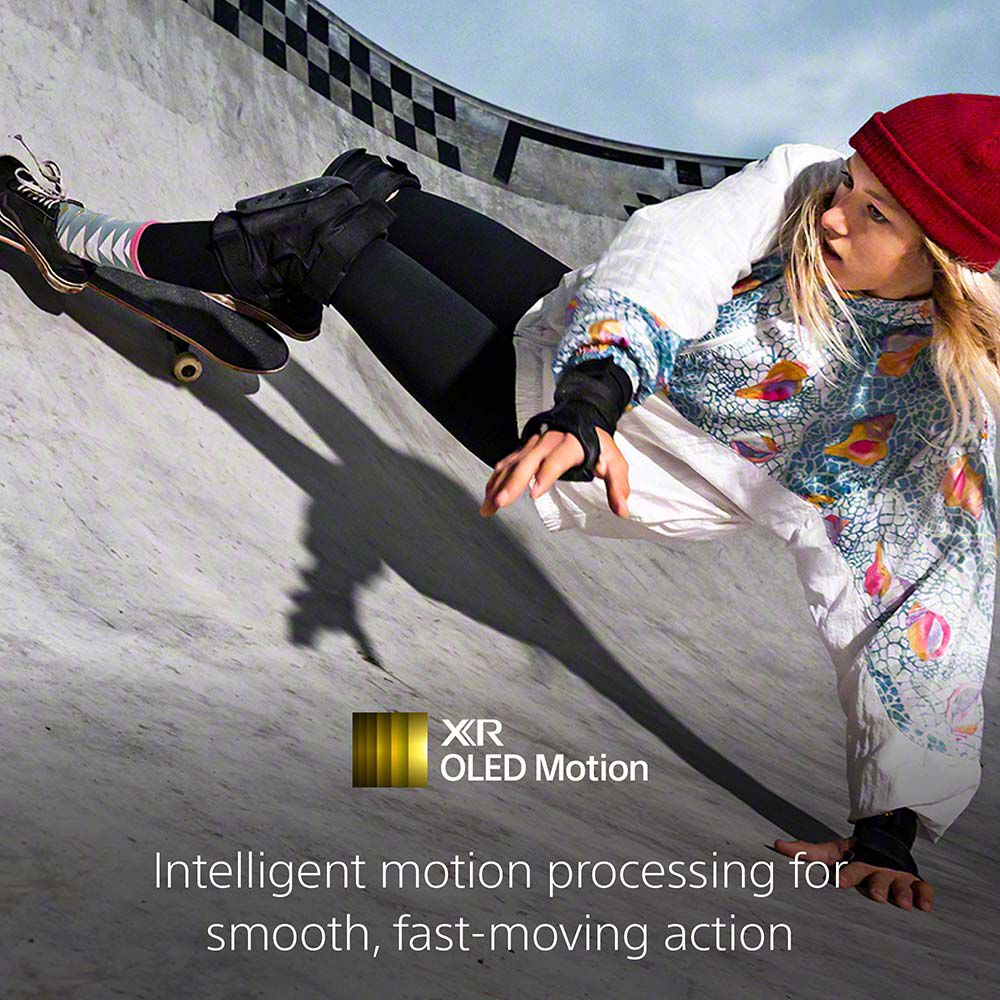 Sound from the screen, pictures and sound in harmony
Enjoy sound that precisely matches what's on screen with Acoustic Multi-Audio™ technology. Sound positioning tweeters ensure pictures and sound are in harmony for an immersive viewing experience.
Hands-free help from Google
With hands-free voice control built into Google TV, you can set aside your remote and simply use your voice to control your TV. Ask Google to find a specific title, search by genre, and get personalised recommendations on what to watch by saying, "Hey Google, what should I watch?". Even get answers on screen, control smart home devices, and more
A wide colour spectrum for real-world shades and hues
Powered by our Cognitive Processor XR™, XR Triluminos Pro enables X95K to access over a billion colours and reproduce each one with the subtle differences seen in the real world. Together with our wide colour gamut panel and human-centric processor, it can detect colour from saturation, hue and brightness to deliver natural shades in every detail.
Beautiful pictures across the screen
The X-Wide Angle™ panel keeps pictures beautiful from any angle so even people watching at the sides get as satisfying an experience as those from the centre. And with X-Anti Reflection, pictures are much clearer with less glare.
Supreme pictures and sound, whatever the environment
Sit back and enjoy an enthralling viewing experience. Our unique ambient optimisation technology with light sensor automatically adjusts picture and sound to your environment.
Key Features
Works with Alexa
Connect your Alexa enabled devices for seamless hands-free control of a Sony TV. With Alexa, you can power up your TV, change channels, control volume and more.
Works with Ok Google
Watch your favourite movies and shows without hunting down the remote. Now you can just use your voice to control your Sony TV through a Google Assistant-enabled device. Just say "Ok Google" to get started.
Works with Apple AirPlay / Apple HomeKit
With Apple AirPlay, you can stream video and audio to your television right from your iPhone, iPad, or Mac. Watch movies and shows from the Apple TV app, your favourite apps, or even Safari. Share your photos with everyone in the room.
Chromecast built-in
Go from your phone, tablet, or laptop to your TV in an instant. With Chromecast built-in, you can cast all your favorite movies, shows, apps, games, and more directly to your TV.
XR HDR Remaster
With XR HDR Remaster, this TV can detect each object on screen, analyse its colour and adjust contrast for even more realistic pictures. Object-based processing, powered by BRAVIA XR, takes precision to a whole new level by adding adjustment of hue, saturation, brightness, motion vector, bandwidth and more. The result is exceptionally real scenes with greater depth, lifelike textures and natural colours.
XR 4K Upscaling
With XR 4K Upscaling, you'll enjoy entertainment close to 4K quality, whatever the content or source. Our Cognitive Processor XR accesses a vast amount of data, intelligently recreating lost textures and detail for real world pictures.
4K XR Super Resolution
XR Super Resolution detects individual objects in a picture and reproduces virtually real world textures on screen. Our BRAVIA XR processor precisely analyses and processes data to power 4K pictures with four times the resolution of Full HD to enrich scenes with real world detail and texture.
Premium designed remote
We've completely redesigned our remote for effortless control of your TV, day or night. Our new premium remote is easy to use with simplified buttons, a backlight so you can see everything clearly, even in the dark, and a Finder function for quickly locating it by voice if lost. Designed compact in aluminium, this remote has a beautifully refined look and is comfortable to hold in the hand too.
Dolby Vision and Dolby Atmos
Enjoy cinematic thrills at home. Dolby Vision brings scenes vividly to life for authentic viewing, while Dolby Atmos fills the room with immersive surround sound.
Acoustic Surface Audio+
Sound comes directly from the screen with Acoustic Surface Audio+. Large actuators vibrate, uniquely turning the entire screen into a speaker to create powerful acoustics that move with the picture so you hear a more realistic soundtrack with exceptionally clear and natural dialogue. Left and right subwoofers boost bass for truly immersive cinematic sound at home.
Creator Calibrated Mode
Creator Calibrated Mode on BRAVIA XR TVs can optimize picture settings when you watch content on Netflix and BRAVIA CORE. Netflix Adaptive Calibrated Mode further optimizes your Netflix experience according to the lighting conditions of your room, allowing you to enjoy Netflix content in spectacular studio quality, just as the creator intended.
Large actuators
The two large actuators on the A95K, designed with a perfectly round shape, deliver more powerful and realistic sound to everything you watch. By vibrating the screen, the actuators create clearly defined mid and high frequencies for a truly engaging audio experience that matches what's on screen.
3D Surround Upscaling
With BRAVIA XR, everything you watch gets the true surround sound treatment. XR Surround virtually creates surround sound from the sides and vertically using just the TV speakers, so you can experience 3D audio without the need for in-ceiling or up-firing speakers. Our BRAVIA XR TVs are also compatible with Dolby Atmos.
Voice Zoom 2
Hear TV dialogue more clearly without turning up the volume. Even if speech is difficult to hear, Voice Zoom 2 detects the type of voice, analyses it and enhances its clarity.
Acoustic Center Sync
When you connect a BRAVIA XR TV to a Sony soundbar, the soundbar reinforces the centre speaker channel for clearer and fuller vocals. This enables sound to precisely match on-screen action for a truly immersive experience.
Auto Low Latency Mode
With Auto Low Latency Mode in HDMI 2.1, BRAVIA recognises when a console is connected and powered on, and automatically switches to low latency mode. You'll enjoy smoother, more responsive gameplay - vital for fast-moving, high-intensity games.
4K OLED
Whatever you're watching, you'll see it upscaled close to 4K quality thanks to our unique Cognitive Processor XR. You'll also enjoy supreme contrast on our new OLED(QD-OLED) screen that's expertly controlled by our unique technology to deliver real life depth and our widest range of beautifully accurate colours in every scene.
Ready for 360 Spatial Sound
Tailor your Dolby Atmos experience by combining our SRS-NS7 wearable speaker with BRAVIA XR for spatial surround sound. With selected Sony headphones, you can also enjoy the simulated surround of 360 Spatial Sound using Wireless Transmitter WLA-NS7 (sold separately).
XR OLED Motion
Powered by our Cognitive Processor XR, XR OLED Motion combats blur by detecting and cross analysing key visual elements on successive frames. It creates and inserts extra frames between the original ones so you can enjoy smooth and clear action, even in fast-moving sequences.
Variable Refresh Rate
With a Variable Refresh Rate in HDMI 2.1, BRAVIA avoids stuttering delays and screen tearing. This TV dynamically adjusts the display refresh rate to match the variable frame rates of the gaming device for smoother gameplay.
Auto HDR Tone Mapping
With Auto HDR Tone Mapping the HDR settings will be optimised instantly during your PS5 console's initial setup. Your PS5 automatically recognises individual BRAVIA TV models and selects the best HDR setting for your TV accordingly. So even in high contrast scenes, you'll see the crucial details and colours in the brightest and darkest parts of the screen.
Easy to wipe
Designed with a flush surface featuring lower buttons and a special polyurethane coating, our remote is easy to wipe and keep clean.
Smart remote
All your connected devices can be controlled with our smart remote. One button access to video on demand services brings shows and movies into your room in seconds.
Dual Style - Front position style
The Front position style with One Slate design focuses the viewer on the screen for the most immersive experience possible without distractions.
Light & Colour Sensor
When the hue of a light source in a room changes, for example between cool and warm, colours of the TV picture change accordingly and can become unnatural. This TV includes an RGB light sensor that optimises colour and brightness of the picture to the light source and room environment.
Sound Auto Calibration - L/R balance adjustment
BRAVIA CAM follows you and your position, even if you are watching from the sides, then adjusts left and right sound balance for optimum acoustics. Wherever you are in the room, you'll enjoy the same sound quality as if you're sitting right in front of the TV.
Sound Auto Calibration - Auto Voice Zoom
By detecting your viewing distance, BRAVIA CAM is able to adjust voice zoom automatically so you can hear dialogue clearly. The volume of TV dialogue increases when you move away from the TV and decreases when you get closer.
Cognitive Processor XR
Take vision and sound to the next level with Cognitive Processor XR. Our revolutionary processor on Sony BRAVIA XR TVs reproduces content the way humans see and hear for an incredibly lifelike experience. It understands how the human eye focuses, cross analysing images to give real life depth, extraordinary contrast and beautifully vivid colours.
XR Triluminos Max
The new OLED(QD-OLED) panel enables our widest palette of colours, thanks to Cognitive Processor XR. This unique processor reproduces the natural shades and hues that humans find beautiful, filling the screen with consistently vivid colours and realistic textures at all brightness levels.
XR OLED Contrast Pro
XR OLED Contrast Pro powers our OLED(QD-OLED) panel so you can enjoy true contrast with the brightest colours and pure blacks. With a temperature sensor [1] and heat diffusion sheet [2] for dissipating heat, this OLED TV utilises our Cognitive Processor XR to detect screen temperature and precisely control light, delivering up to 200% as much colour brightness as conventional OLED TVs.
Auto Genre Picture Mode
BRAVIA automatically switches into Game mode to minimise input lag and make the action more responsive. When watching movies on PlayStation5 consoles, it switches back to Standard Mode to focus on picture processing for more expressive scenes.
4K XR Smoothing
XR Smoothing creates smooth, natural 4K pictures as you watch, without the "banding" that can occur on other TVs. Scenes are reproduced with thousands of tones, shades and gradations, making them look incredibly real.
Dual Style - Back position style
The Back position style allows you to set the TV very close to the wall so it harmonises perfectly with your room.
Living Decor
Our Living Decor turns your TV into an essential part of your living space with on screen artwork, personal photos, screensaver themes and clock functions.
Beautiful colours from every possible angle
Watching TV from the sides has never been so satisfying. Our next generation self-illuminating OLED(QD-OLED) panel on the A95K keeps constant luminance. Colours stay consistent and true across all viewing angles.
Video communication
Catch up with your friends and family on the big screen. Enjoy more fun when you pair your TV with BRAVIA CAM.
4K/120fps
Get the edge on the competition with BRAVIA. With HDMI 2.1, you can get an up to 120fps framerate on compatible games, so you can take on any challenge in shooting, sports and high-performance games with near instant on-screen action. You'll also enjoy ultra-smooth gaming with reduced input lag of 8.5ms with 4K/120fps and dedicated Game Mode.
Google TV
Browse 700,000+ movies and TV episodes from across your streaming services, all in one place and organised into topics and genres based on what interests you.
Hands-free Voice Search
Find your favourite content faster than ever using the power of your voice, no remote required. With Voice Search, there's no more complicated navigation or tiresome typing - you just have to ask.
Google Assistant
Your TV is more helpful than ever. Use your voice to find movies, stream apps, play music, and control the TV. Ask Google to find a specific title, search by genre, or get personalised recommendations by saying, "what should I watch?" Even get answers like sports scores, control smart home devices, and more. Talk to Google to get started.
BRAVIA CORE
A huge number of movies are included and waiting for you. With BRAVIA XR technology, Pure Stream and IMAX Enhanced, everything you watch is delivered with stunning visuals and expressive sound quality. With BRAVIA CORE calibrated mode, you can watch in the picture settings that the filmmakers intended for their film at home.
Proximity Alert
Proximity Alert allows you to set a recommended viewing distance for your child and alerts you if they get too close to the TV.
Gesture Control
Gesture Control enables you to change channels, adjust volume and more using simple gestures, no remote required.
Auto Power Saving Mode
Auto Power Saving Mode optimises your power consumption by darkening the screen automatically when you are not in front of the TV.
Less glare and reflection, immersive viewing
Glare and reflection makes it hard to see images clearly, especially in dark scenes where depth and detail are often hidden. With extremely low reflectivity of outdoor light, our OLED(QD-OLED) panel reduces this effect for incredible brightness, colour and contrast in almost any lighting conditions. Dive into the scene and enjoy immersive viewing without distraction.
Bluetooth connectivity
Connect Bluetooth compatible devices to your TV for easy wire free entertainment. Pair your Bluetooth headphones or earphones with BRAVIA and enjoy TV shows and music in your favourite place - without any disturbances or interruptions.
Ambient Optimization Pro
Connect your BRAVIA XR TV with the supplied BRAVIA CAM and enjoy TV like never before. BRAVIA CAM recognises where you are in the room and how far you are from the TV, then adjusts sound and picture settings so they're just right. This means audio - including dialogue - is clearer and more immersive with picture brightness tailored to your viewing environment.
Picture Auto Calibration
Detecting the distance between you and your TV, BRAVIA CAM adjusts TV brightness so you'll always enjoy perfect picture quality, no matter where you are in the room. A light and colour sensor in the TV optimises pictures to light conditions for the best possible viewing experience.
Specifications
Display
Display resolution (H x V, pixels)

3840 x 2160

Backlight type

-

Display type

OLED(QD-OLED)

TV Viewing Angle

-

Clarity enhancement

XR 4K UpscalingDual database processingXR Super Resolution
Connectivity
Wi-Fi Standard

Wi-Fi Certified 802.11a/b/g/n/ac

USB playback codecs

MPEG1:MPEG1/MPEG2PS:MPEG2/MPEG2TS(HDV,AVCHD):MPEG2,AVC/MP4(XAVC S):AVC,MPEG4,HEVC/AVI:Xvid,MotionJpeg/ASF(WMV):VC1/MOV:AVC,MPEG4,MotionJpeg/MKV:Xvid,AVC,MPEG4,VP8.HEVC/WEBM:VP8/3GPP:MPEG4,AVC/MP3/ASF(WMA)/LPCM/WAV/MP4AAC/FLAC/JPEG,WEBM:VP9/AC4/ogg/AAC/ARW(Screen nail only)

USB drive format support

FAT16/FAT32/exFAT/NTFS

RS-232C Input(s)

No

IF (Satellite) Connection Input(s)

No

HDMI Audio Return Channel (ARC)

Yes (eARC/ARC)

HDCP

HDCP2.3(for HDMI1/2/3/4)

Bluetooth profile support

Version 4.2,HID (mouse/keyboard connectivity)/HOGP (Low Energy device connectivity)/SPP(Serial Port Profile)/A2DP (stereo audio) /AVRCP (AV remote control)

Chromecast Built-in

Yes

Apple AirPlay

Yes

Apple HomeKit

Yes

Features specified in HDMI 2.1

4K120/eARC/VRR/ALLM
Built-in tuners
TV System (Digital Terrestrial)

DVB-T/T2

TV System (Digital Cable)

-

CI+

-
Design features
Stand design

Full Edge Slate
Interface
USB ports

1(Side)/1(Bottom)

RF (Terrestrial/Cable) Connection Input(s)

1(Bottom)

HDMI inputs total

4(1Side,3Bottom)

Ethernet inputs

1(Bottom)

Digital Audio Output(s)

1 (Bottom)

Composite Video Input(s)

Hybrid with S-Center Speaker Input x1(Side, Mini jack)

Component Video (Y/Pb/Pr) Input(s)

No

Audio Output(s)

-

Headphone Output(s)

1(Side)

Subwoofer Output(s)

-
Picture and Audio Features
Sound modes

Standard, Dialog, Cinema, Music, Sports, Dolby Audio

Picture modes

Vivid,Standard,Cinema,IMAX Enhanced,Game,Graphics,Photo,Custom,Dolby Vision Bright,Dolby Vision Dark,Netflix calibrated

Motion enhancer

XR OLED Motion, Auto mode

HDR (High Dynamic Range) compatibility

Yes(HDR10,HLG,Dolby Vision)

Audio Description (Audio Key)

Yes

Auto Calibration with Calman

Yes

Speaker Configuration

Actuator x 2, Subwoofer x 2

Sensor

Light/Color

Acoustic Auto Calibration

Room & User Position Compensation

Voice Zoom

Voice Zoom 2

Netflix Calibrated Mode

Yes
Special features
USB HDD Recording

No

On/Off Timer

Yes

Electronic Program Guide (EPG)

Yes

HDMI-CEC

Yes
Eco and energy saving
Power Saving Mode / Back Light Off Mode

Yes

Power Consumption (in standby)

0.5 W

Mercury content(mg)

0.0 mg

Presence of lead

-

Screen Size (cm, measured diagonally)

164 cm
Dimensions and Weight
Weight of Package Carton (Gross)

Approx. 51 kg

VESA® Hole Pitch(W x H)

300 x 300 mm

Weight of TV without Stand

Approx. 27 kg

Weight of TV with Stand

-

Screen Size (cm, measured diagonally)

164 cm
Support
Warranty
When you purchase a Sony product, you have the peace of mind in knowing that your product is covered by Sony's Standard Warranty provided by Sony Australia Limited (for Australian purchases) and Sony New Zealand Limited (for New Zealand purchases)
This product is searchable
Search for this product by using any of the following codes or IDs

XR65A95K
4548736139800
XR-65A95K
XR-65A95K AZ1