FX3 Full-frame Cinema Line camera
Full-frame Exmor R CMOS sensor and powerful BIONZ XR image processor
High sensitivity and wide dynamic range
Enhanced mobility with compact, lightweight body
Details
https://store.sony.com.au/professional-camera/ILMEFX3.html
Product Actions

Delivery
Back Order
Next estimated shipping date is 28 July 2022
Shipping & Delivery: Timeframes shown are subject to change. Delivery cut-off times are based off AEST, and approximate business days. *Shipping defined as departure from warehouse
Product Gallery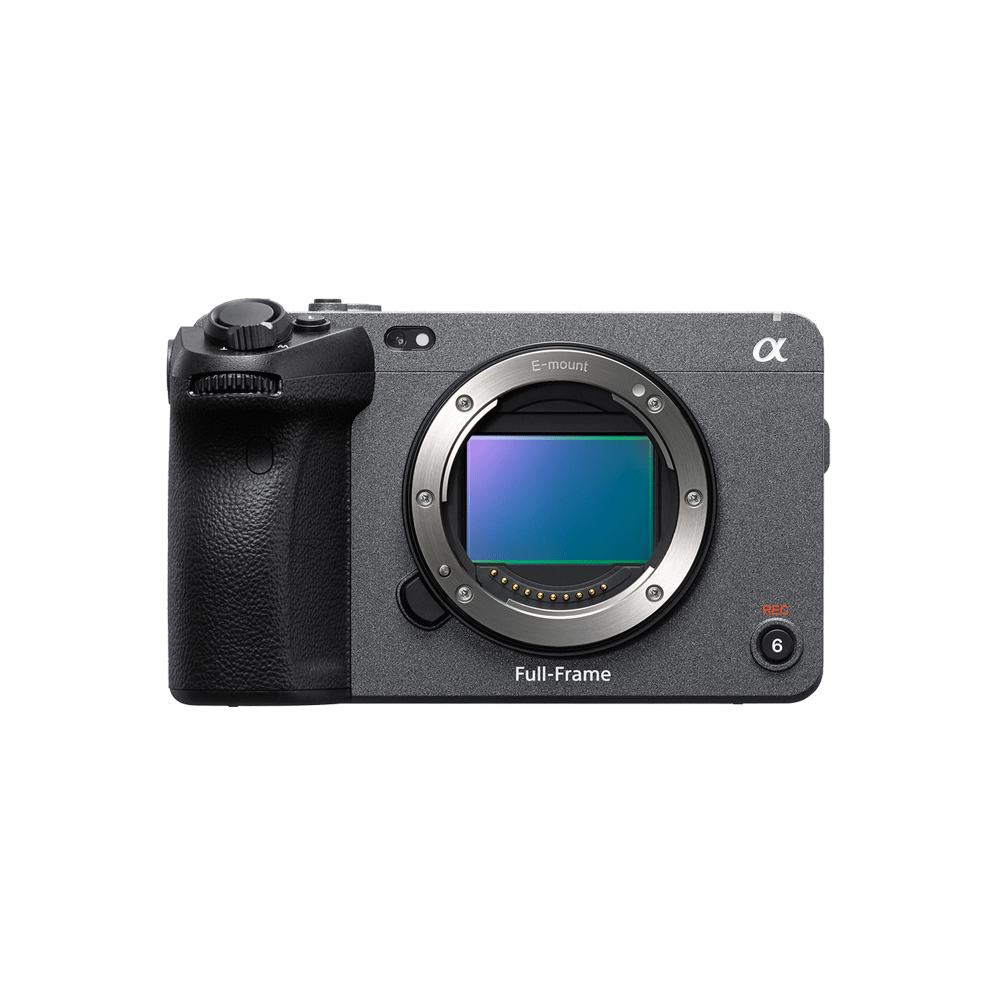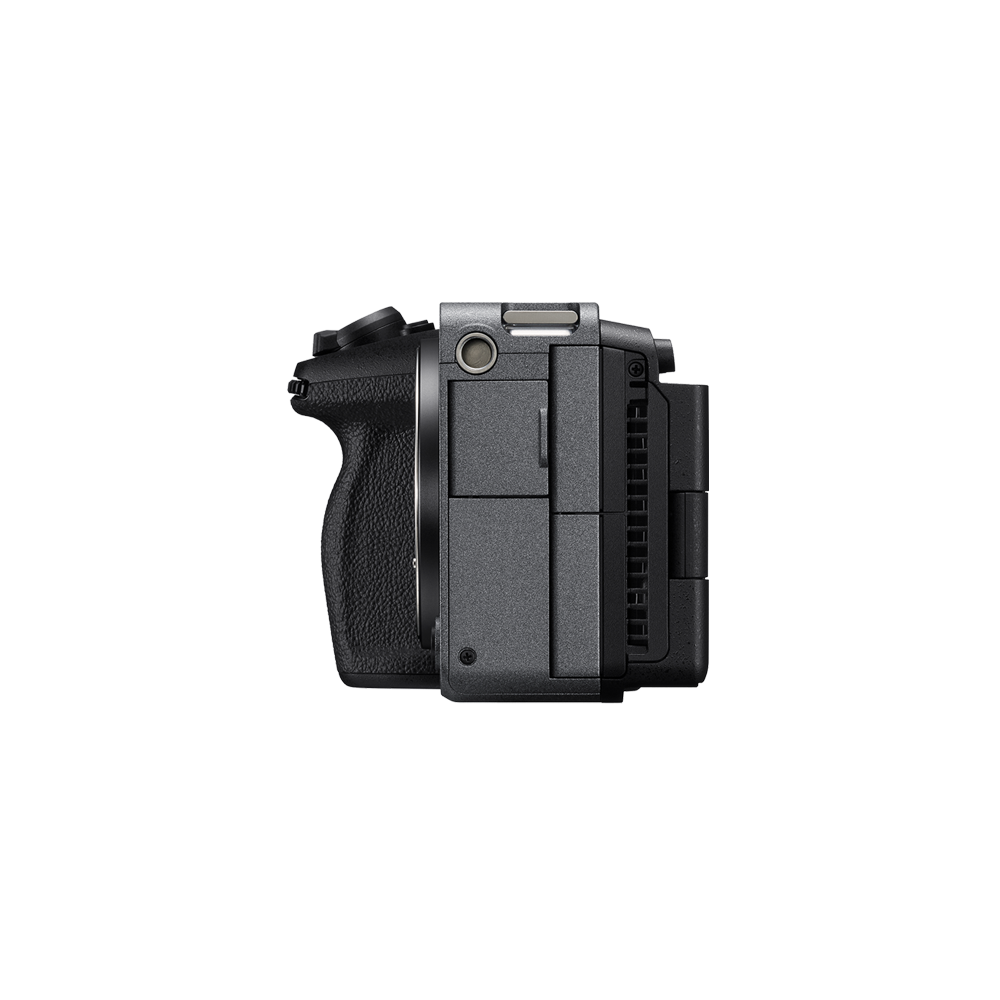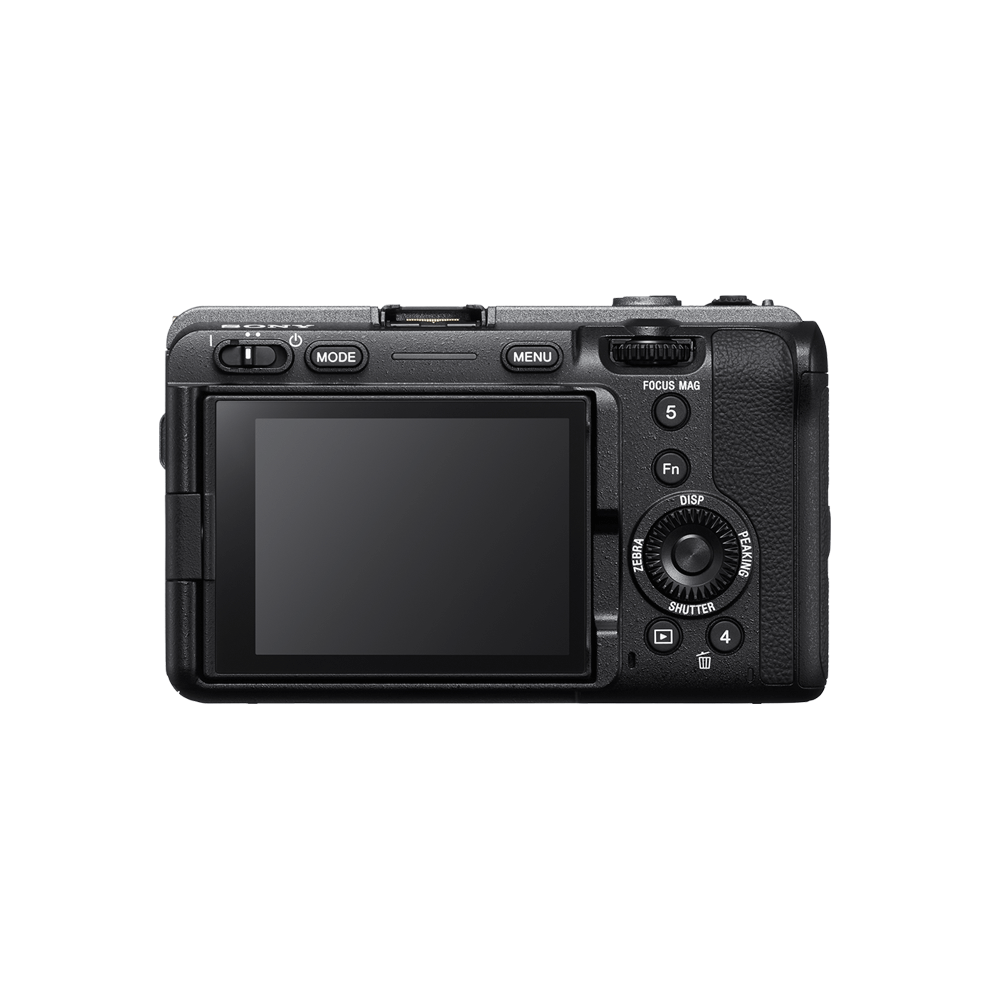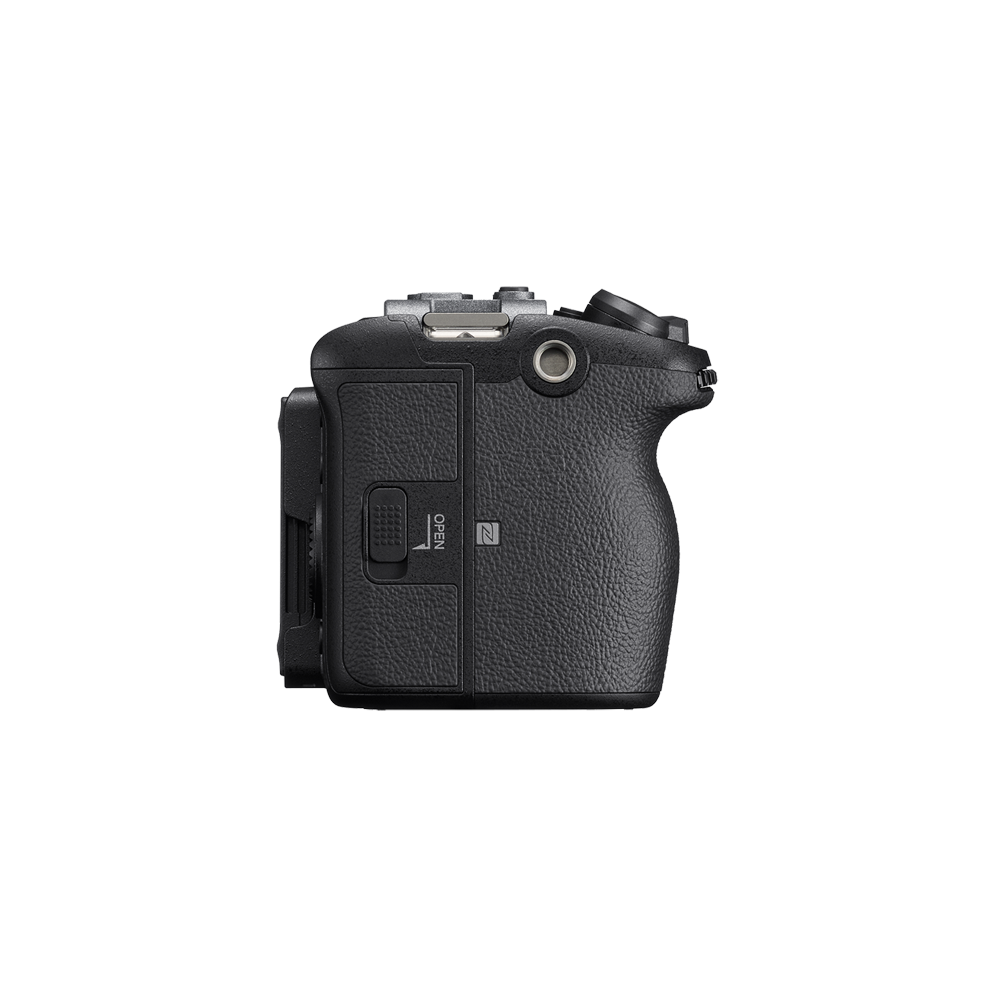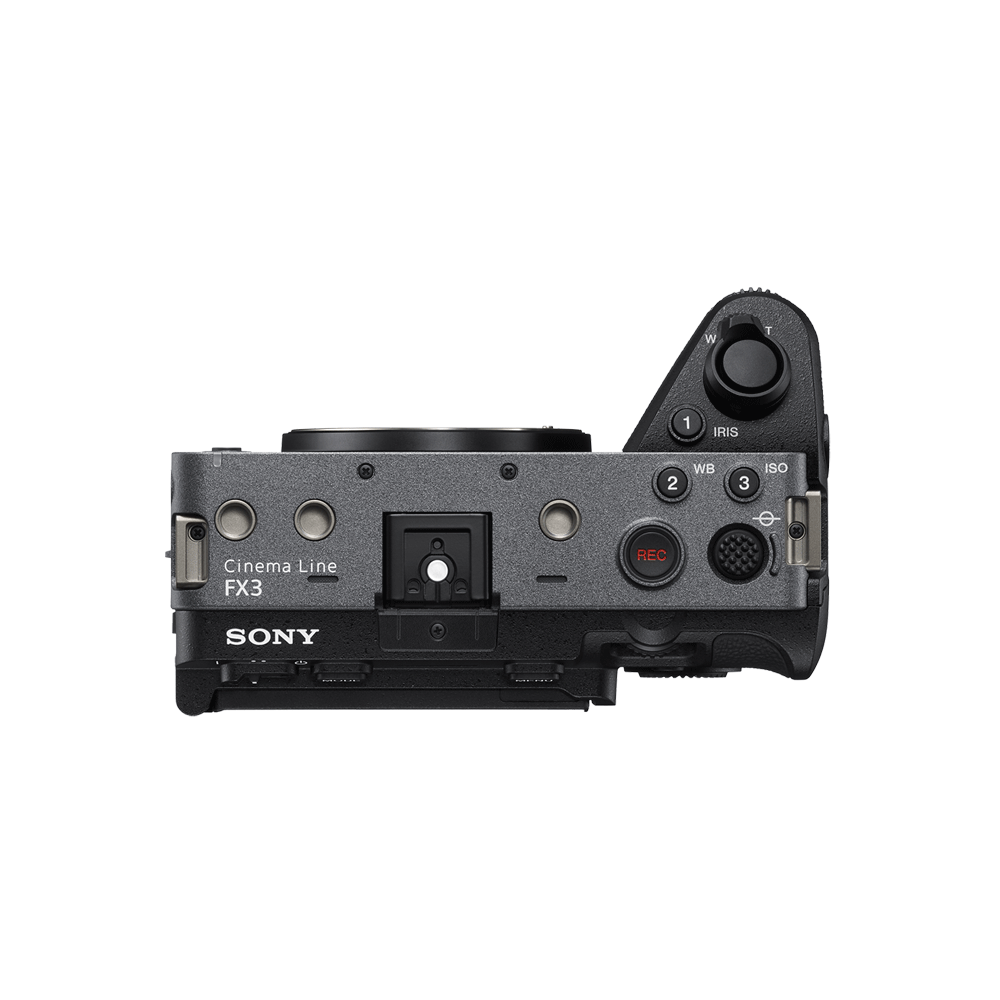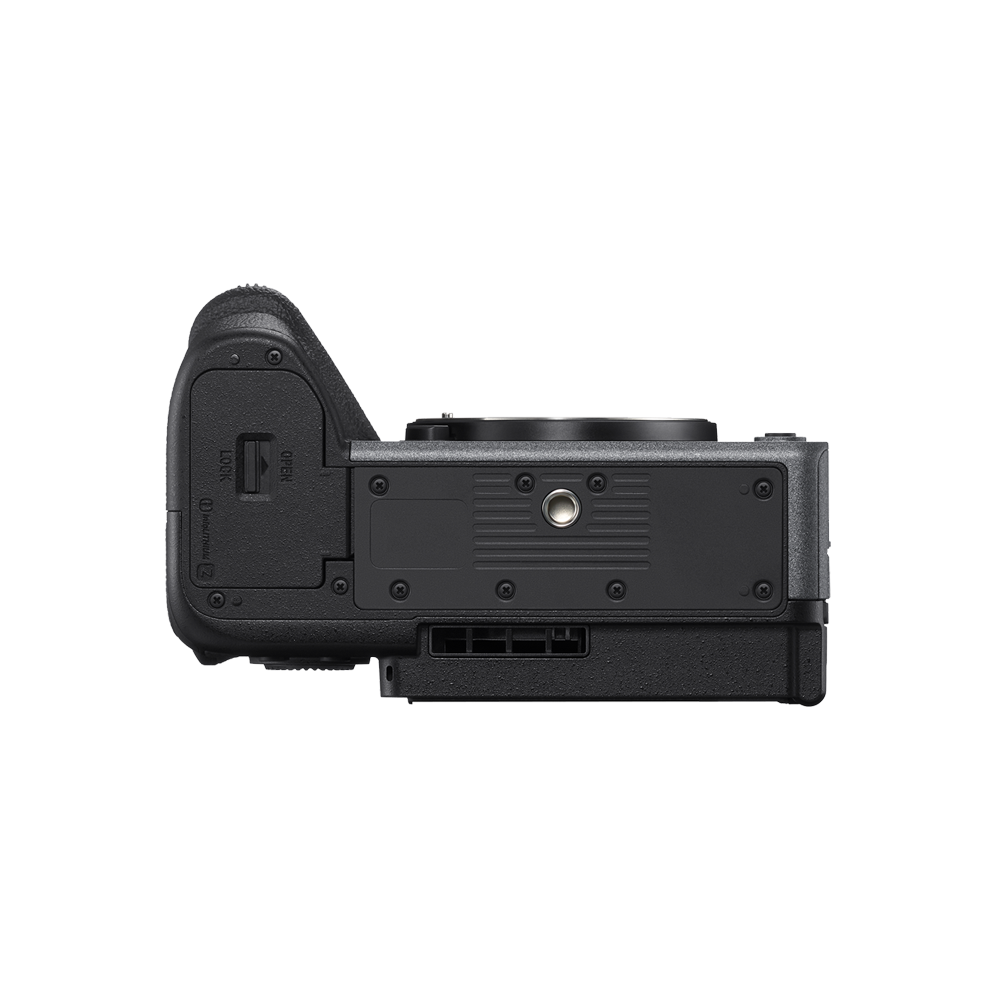 Key Features
In-body optical image stabilisation for handheld shooting
Relying on a new high-precision stabilisation unit, gyro sensors, and optimised image stabilisation algorithms, the camera's Optical SteadyShot Active Mode provides precise optical image compensation, for outstanding results for 4K video recording , even while walking. With this unprecedented level of stabilisation it's possible to shoot with the camera only, taking advantage of the compact size and mobility. [1] Track of camera shake [2] Standard [3] Active
XLR adaptor and digital input for quality audio
The handle of the FX3 includes two independent full-size XLR connectors (XLR/TRS combo) to connect external professional microphones through a digital audio interface via the Multi Interface (MI) Shoe. Three recording formats can be selected, including 24-bit 4-channel.
HDMI Type-A output and monitoring options
With a durable and versatile HDMI Type-A jack, it is possible to simultaneously output video to the camera's LCD monitor, an HDMI-connected external recording or monitoring device.
Uninterrupted 4K 60p recording
For uninterrupted 4K 60p recording, the FX3 features an innovative heat dissipation structure, including a unique Sony S (sigma) shaped graphite-alloy heatsink. A complete internal redesign optimised airflow and placement of heatsinks. When required, a silent cooling fan provides ventilation for continuous recording at full resolution, with intake and exhaust air structurally isolated to maintain strong dust and moisture resistance.
Data communications to support on-site workflow
Wireless 5GHz/2.4GHz LAN connections are supported, as are 1000BASE-T Ethernet network connections via a USB-to-Ethernet adaptor cable connected to the camera's USB Type C terminal supporting SuperSpeed USB 5Gbps (USB 3.2). Remote shooting can be controlled from a PC with Sony's Imaging Edge Desktop application, or from a mobile device with Imaging Edge Mobile. Wired and wireless FTP transfer for data files as well as remote shooting capabilities support professional workflows during shoots.
Metadata to facilitate editing with Catalyst
Sony's Catalyst Browse and Prepare software are ideal production partners for the FX3. The FX3 records two types of supplementary metadata: image stabilisation and camera rotation. These can be useful when previewing and preparing to edit in Sony's free Catalyst Browse or cost-effective Catalyst Prepare desktop applications.
Expand your vision with Creative Look
Looks emulate pro monitoring and post-production tools inside the camera. The Creative Look presets are available in-camera, and each of these can be used as is, or further customised using individual parameter settings such as hue, colour depth, brightness, contrast, and sharpness. Fine adjustment of preset looks can be made according to the user's preference, and you can also register your favourite settings as a custom look.
10-bit HLG picture profile
An HLG (Hybrid Log-Gamma) HDR picture profile, complete with the wide-gamut BT.2020 colour space, can be used for direct HDR (HLG) playback on compatible TVs. The result is true-to-life imagery close to what the naked eye can see, with detailed shadows and highlights, less blackout and less whiteout, all without the need for colour grading. In particular, 10-bit recordings reproduce a level of fine gradation and detail for extraordinary realism. [1] High flexibility to fine-tune images as desired (colour grading required) [2] Instant high-quality image (colour grading not required)
Flexible exposure mode
Flexible Exposure Mode allows the Auto and Manual modes for iris, shutter speed and ISO to be set independently. The lock function, activated by a short press on the respective custom buttons, locks the related controls to prevent changes if the dial or wheel is accidentally moved. The frequently used iris and ISO can be controlled by the easily accessible front and rear dials as well as by the dial on the top panel.
Fast Hybrid AF for dependable focus during movie shooting
Fast Hybrid AF combines focal plane phase-detection AF with contrast-detection AF. This results in highly precise, smooth tracking of fast-moving subjects even over a wide range with a shallow depth of field. AF Transition Speed and AF Subject Shift Sensitivity parameters allow more flexible focus control, as demanded by professional users.
Fast, easy and reliable Real-time Tracking and Eye AF
Focus control is fast and intuitive, to ensure you have full creative control of the FX3's powerful AF technology. Real-time Tracking greatly assists during solo shooting by analysing the subject's colour, patterns, and depth. When shooting people, Real-time Eye AF makes movie-making much easier, especially with gimbal-mounted shots and wherever you need to rely on AF.
Fast, easy touch focus control
Touch focus control allows you to precisely specify the point of focus simply by touching the LCD monitor. It's fast, easy, and intuitive to perform rack focusing through touch operation-ensuring you have full creative control of the FX3's powerful AF technology.
Specifications
Sensor
Sensor Type

35mm full frame (35.6 x 23.8 mm), Exmor R CMOS sensor
Sensor Type
Sensor Type

35mm full frame (35.6 x 23.8 mm), Exmor R CMOS sensor
ISO Sensitivity
Sensitivity

[Movie] ISO 80-102400 equivalent (ISO numbers up to ISO 409600 can be set as expanded ISO range.), AUTO (ISO 80-12800, selectable lower limit and upper limit), [Still image] ISO 80-102400 (ISO numbers up from ISO 40 to ISO 409600 can be set as expanded ISO range.), AUTO (ISO 80-12800, selectable lower limit and upper limit)
Number Of Pixels (Effective)
Pixels

Approx. 10.2 megapixels (effective) for movies, Approx. 12.1 megapixels (effective) for Still images, Approx. 12.9 megapixels (total)
Shutter
Shutter Speed

Movie: 1/8000 to 1/4 (1/3 steps), up to 1/60 in AUTO mode (up to 1/30 in Auto slow shutter mode) Still image: 1/8000 to 30 sec, Bulb
LCD Screen
LCD

7.5cm (3.0-type) type TFT, approx. 1.44M dots, Opening Angle:Approx. 176 deg., Rotation Angle:Approx. 270 deg.
Audio
Recording Format (Audio)

LPCM 2ch (48kHz 16bit), LPCM 2ch (48kHz 24bit), LPCM 4ch (48kHz 24bit), MPEG-4 AAC-LC 2ch
Custom function
Custom Function

Custom key settings, My Menu, My Dial Settings
Exposure
Gamma Curve

Off / PP1-PP10, Parameters: Black level, Gamma (Movie, Still, Cine1-4, ITU709, ITU709 [800%], S-Log2, S-Log3, HLG, HLG1-3), Black Gamma, Knee, Color Mode, Saturation, Color Phase, Color Depth, Detail, Copy, Reset

Metering Sensitivity

EV-3 to EV20 (at ISO100 equivalent with F2.0 lens attached)

Exposure Modes

[Movie] Programmed AE (P) / Aperture priority (A) / Shutter-speed priority (S) / Manual (M) / Flexible Exp. Mode, [Still images] AUTO (iAuto), P, A, S, M
Focus
Type

Fast Hybrid AF (phase-detection AF / contrast-detection AF)

Focus Point

[Movie] 627 points, [Still image] 35mm full frame: 759 points (phase-detection AF)

Sensitivity Range

EV-6 to EV20 (ISO100 equivalent with F2.0 lens attached)

Focus Mode

[Movie] AF-C, MF, [Still image] AF-A (Automatic AF), AF-S (Single-shot AF), AF-C (Continuous AF), DMF (Direct Manual Focus), Manual Focus

Focus Area

[Movie] Wide / Zone / Center / Flexible Spot / Expanded Flexible Spot, [Still image] Wide / Zone / Center / Flexible Spot / Expanded Flexible Spot / Tracking

Other Focus Features

Eye AF ([Movie] Human (Right/Left Eye Select), ([Still image] Human (Right/Left Eye Select) / Animal,),Face detection (Face Priority in AF, Face Priority in Multi Metering, Regist. Faces Priority), [Movie] AF Subj. Shift Sensitivity, [Movie] AF Transition Speed, [Still image] Focus Magnifier (35mm full frame: 2.1x / 4.1x, APS-C: 1.5x / 3.0x)
Interface
Audio Input

3.5 mm Stereo minijack, XLR handle: [INPUT1][INPUT2] XLR/TRS-type 3-pin(female) (x2), line/mic/mic +48V selectable, Mic Reference -40 to -60 dBu / [INPUT3] 3.5 mm Stereo minijack)

USB

USB Type-C (x1, SuperSpeed USB 5Gbps (USB 3.2) compatible), Multi/Micro USB (x1)

Headphone Output

Yes (3.5 mm Stereo minijack)

Speaker Output

Built-in, monaural

Hdmi Output

HDMI jack (Type-A), YCbCr 4:2:2 10bit / RGB 8bit

Multi Interface Shoe

With Digital Audio Interface

Bluetooth

Bluetooth Standard Ver. 5.0 (2.4GHz band))
Lens
Lens Compensation

Peripheral Shading, Chromatic Aberration, Distortion
White balance
White-Balance Modes

Auto / Daylight / Shade / Cloudy / Incandescent / Fluorescent / Flash / Underwater / Color Temperature (2500 to 9900K) & color filter / Custom
Playback
Proxy Video

1280 x 720 (Approx. 6Mbps), 1920 x 1080 (Approx. 9Mbps), 1920 x 1080 (Approx. 16Mbps)

XAVC HS

[XAVC HS 4K] 59.94p/50p 200M When using CEA-G160T (160 GB) Approx. 85 minutes, When using CEA-G80T (80GB) Approx. 40 minutes, 59.94p/50p 150M When using CEA-G160T (160 GB) Approx. 110 minutes, When using CEA-G80T (80GB) Approx. 55 minutes, 59.94p/50p 100M When using CEA-G160T (160 GB) Approx. 170 minutes, When using CEA-G80T (80GB) Approx. 80 minutes, 59.94p/50p 75M When using CEA-G160T (160 GB) Approx. 220 minutes, When using CEA-G80T (80GB) Approx. 100 minutes

XAVC S

[XAVC S 4K] 59.94p/50p 200M When using CEA-G160T (160 GB) Approx. 85 minutes, When using CEA-G80T (80GB) Approx. 40 minutes, 59.94p/50p 150M When using CEA-G160T (160 GB) Approx. 110 minutes, When using CEA-G80T (80GB) Approx. 55 minutes, [XAVC S HD] 59.94p/50p 50M When using CEA-G160T (160 GB) Approx. 310 minutes, When using CEA-G80T (80GB) Approx. 150 minutes, 59.94p/50p 25M When using CEA-G160T (160 GB) Approx. 550 minutes, When using CEA-G80T (80GB) Approx. 210 minutes

XAVC S-I

[XAVC S-I 4K] XAVC S-I 4K 59.94p/50p When using CEA-G160T (160 GB) Approx. 25 minutes, When using CEA-G80T (80GB) Approx. 10 minutes, [XAVC S-I HD] 59.94p/50p When using CEA-G160T (160 GB) Approx. 75 minutes, When using CEA-G80T (80GB) Approx. 35 minutes

Playback Functions

Index view, Folder selection (Date / Still / Movie), Photo capture, 4Ch audio monitoring, Auto Review (stills), Image orientation (stills), Protect (stills), Rating (stills), Display as Group (stills)
Power
Power Consumption

[Movie] Approx. 7.3W (with FE 28-70mm F3.5-5.6 OSS lens attached), [Still image] Approx. 3.4W (with FE 28-70mm F3.5-5.6 OSS lens attached)

Battery Operating Time

Approx. 95 min (Actual recording, CIPA standard) , Approx. 135 min (Continuous recording, CIPA standard), Approx. 600 shots (LCD monitor) (still images, CIPA standard)
Recording (Video)
XAVC HS

[XAVC HS 4K] 59.94p/50p 200Mbps/150Mbps/100Mbps/75Mbps/45Mbps, MPEG-H HEVC / H.265, 23.98p 100Mbps/100Mbps/50Mbps/50Mbps/30Mbps, MPEG-H HEVC / H.265, 119.88p/100p 280Mbps/200Mbps, MPEG-H HEVC / H.265

XAVC S

[XAVC S 4K] 59.94p/50p 200Mbps/150Mbps, MPEG-4 AVC / H.264, 29.97p/25p 140Mbps/100Mbps/60Mbps, MPEG-4 AVC / H.264, 23.98p 100Mbps/100Mbps/60Mbps, MPEG-4 AVC / H.264,[XAVC S HD] 59.94p/50p 50Mbps/50Mbps/25Mbps, MPEG-4 AVC / H.264, 29.97p/25p 50Mbps/50Mbps/16Mbps, MPEG-4 AVC / H.264, 23.98p 50Mbps/50Mbps, MPEG-4 AVC / H.264, 119.88p/100p 100Mbps/60Mbps, MPEG-4 AVC / H.264

XAVC S-I

[XAVC S-I 4K] 59.94p/50p 600Mbps/500Mbps, MPEG-4 AVC / H.264, 29.97p/25p 300Mbps/250Mbps, MPEG-4 AVC / H.264, 23.98p 240Mbps, MPEG-4 AVC / H.264, [XAVC S-I HD] 59.94p/50p 222Mbps/185Mbps, MPEG-4 AVC / H.264, 29.97p/25p 111Mbps/93Mbps, MPEG-4 AVC / H.264, 23.98p 100Mbps/100Mbps/60Mbps, MPEG-4 AVC / H.264, 119.88p/100p 280Mbps/200Mbps, MPEG-4 AVC / H.264
Recording (Still images)
Pixels

Approx. 10.2 megapixels (effective) for movies, Approx. 12.1 megapixels (effective) for Still images, Approx. 12.9 megapixels (total)

Sensor Type

35mm full frame (35.6 x 23.8 mm), Exmor R CMOS sensor

Sensitivity

[Movie] ISO 80-102400 equivalent (ISO numbers up to ISO 409600 can be set as expanded ISO range.), AUTO (ISO 80-12800, selectable lower limit and upper limit), [Still image] ISO 80-102400 (ISO numbers up from ISO 40 to ISO 409600 can be set as expanded ISO range.), AUTO (ISO 80-12800, selectable lower limit and upper limit)

Shutter Speed

Movie: 1/8000 to 1/4 (1/3 steps), up to 1/60 in AUTO mode (up to 1/30 in Auto slow shutter mode) Still image: 1/8000 to 30 sec, Bulb

Recording Format

JPEG (DCF Ver. 2.0, Exif Ver. 2.32, MPF Baseline compliant), HEIF (MPEG-A MIAF compliant), RAW (Sony ARW 4.0 format compliant)

Image Size

Image size [3:2] 35mm full frame L: 12M, M: 5.1M, S: 3.0M, APS-C L:5.1M, M: 3.0M, S: 1.3M, Image size [4:3] 35mm full frame L: 11M, M: 4.6M, S: 2.7M, APS-C L: 4.6M, M: 2.7M, S:1.1M Image size, [16:9] 35mm full frame L: 10M, M: 4.3M, S: 2.6M, APS-C L: 4.3M, M: 2.6M, S: 1.1M, Image size [1:1] 35mm full frame L: 8M, M: 3.4M, S: 2.0M, APS-C L: 3.4M, M: 2.0M, S: 0.8M

Shutter

Mechanical shutter / Electronic shutter

Drive Modes

Single Shooting, Continuous shooting (Hi+/Hi/Mid/Lo selectable), Self-timer, Self-timer (Cont.), Bracket: Single, Bracket: Cont., White Balance bracket, DRO bracket

Continuous Shooting Speed

Hi+: 10 fps, Hi: 8 fps, Mid: 6 fps, Lo: 3 fps

Noise Reduction

Long exposure NR: On/Off, available at shutter speeds longer than 1 sec., High ISO NR: Normal / Low / Off

Flash Control

Sony a System Flash compatible with Multi Interface Shoe, attach the shoe adaptor for flash compatible with Auto-lock accessory shoe, Flash sync speed 1/125 sec.

Other Still Image Function

Electronic Front Shutter Curtain, Silent Shooting, Anti-flicker Shoot
Storage Media
Media Type

CFexpress Type A / SD card (x2), Simult. Rec, Sort, Auto Switch Media, Copy
WiFi® & NFC
Supported Format

IEEE 802.11a/b/g/n/ac

Frequency Band

2.4GHz band/5GHz band

Security

WEP/WPA-PSK/WPA2-PSK

NFC

NFC Forum Type 3 Tag compliant
Operating temperature
Operating Temperature

0ºC to 40ºC, 32ºF to 104ºF

Storage Temperature

-20ºC to +60ºC, -4ºF to +140ºF
What's In The Box
Supplied Accessories

Rechargeable Battery NP-FZ100Battery Charger BC-QZ1Power cordXLR handle unitAccessory shoe kitBody capAccessory shoe capHandle shoe capUSB-A to USB-C cable (USB 3.2)
Size and Weight
Width (cm)

23.00

Height (cm)

14.50

Weight (kg)

1.88

Carton Width (cm)

25.00

Carton Height (cm)

25.50

Carton Weight (kg)

4.15

Weight (Main Unit Only) (Approx.)

Approx. 715 g (1 lb 9.3 oz) (with battery and memory card included), Approx. 640 g (1 lb 6.6 oz) (body only)

Dimensions (W X H X D) (Including Supplied Accessories) (Approx.)

1.015 kg (2 lb 3.8 oz) (with XLR Handle, battery pack, SD card)

Dimensions (W X H X D) (Body Without Protrusions) (Approx.)

Approx. 129.7 mm x 77.8 mm x 84.5 mm (Approx. 5 1/8 x 3 1/8 x 3 3/8 inches) (body without protrusions)
Support
Warranty
When you purchase a Sony product, you have the peace of mind in knowing that your product is covered by Sony's Standard Warranty provided by Sony Australia Limited (for Australian purchases) and Sony New Zealand Limited (for New Zealand purchases)
This product is searchable
Search for this product by using any of the following codes or IDs

ILMEFX3
4548736123267
ILME-FX3
ILME-FX3//Q AP2