7.2ch Home Cinema AV Receiver
192kHz/24bit High-Resolution Audio capable
150W per channel power output
Wi-Fi and Bluetooth NFC One-touch streaming
Replaced by
7.2ch Home Cinema AV Receiver
Product Gallery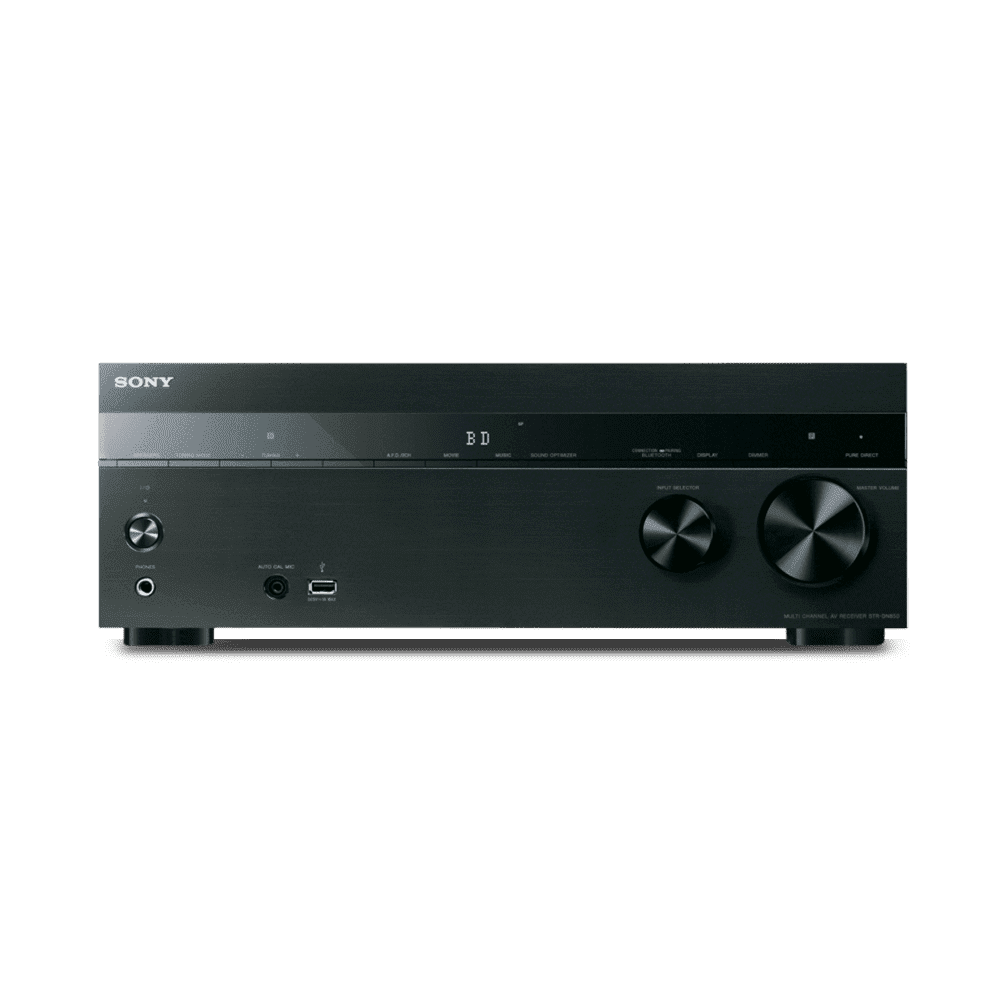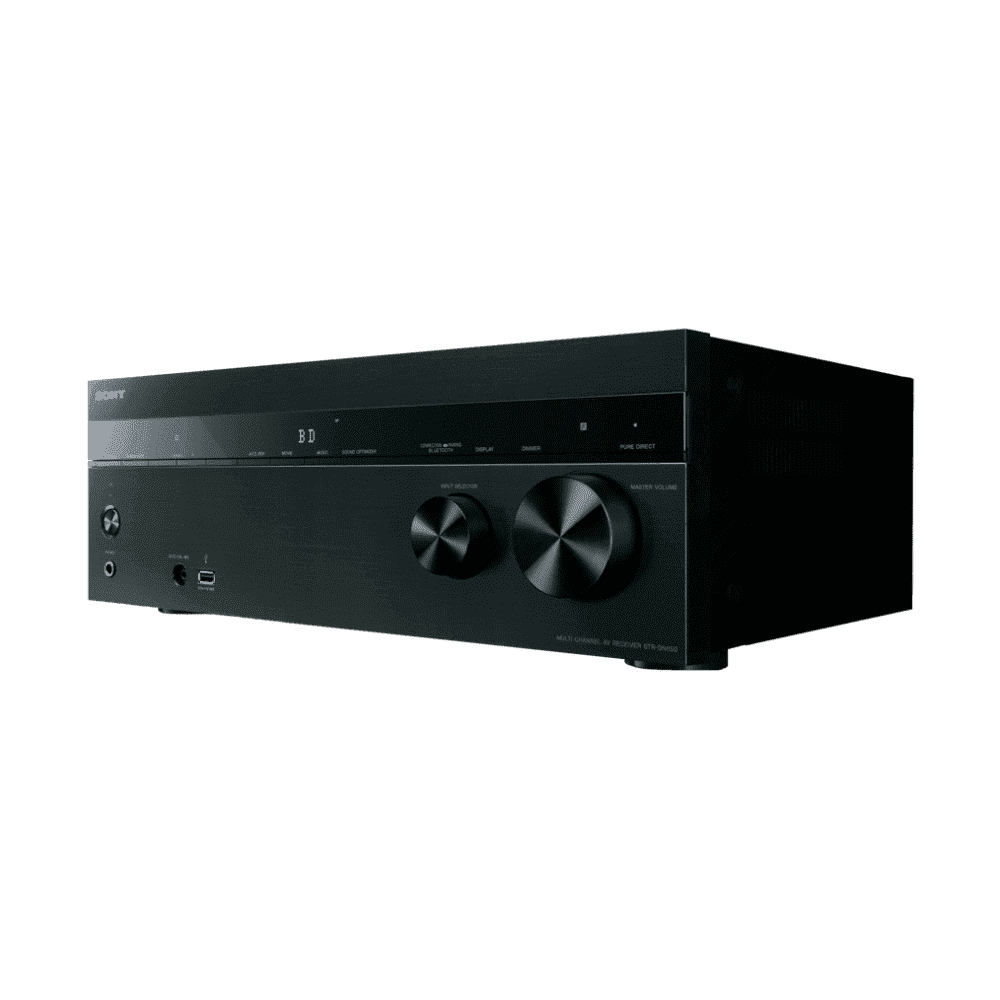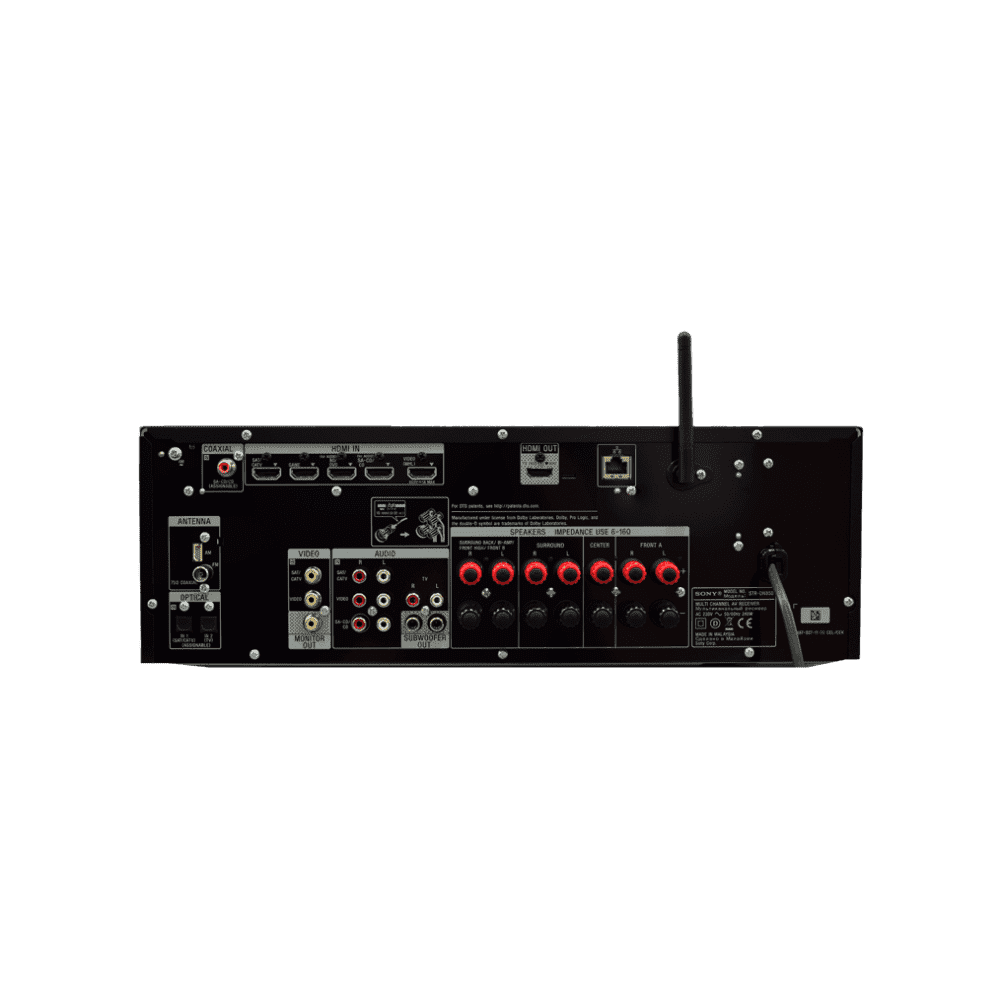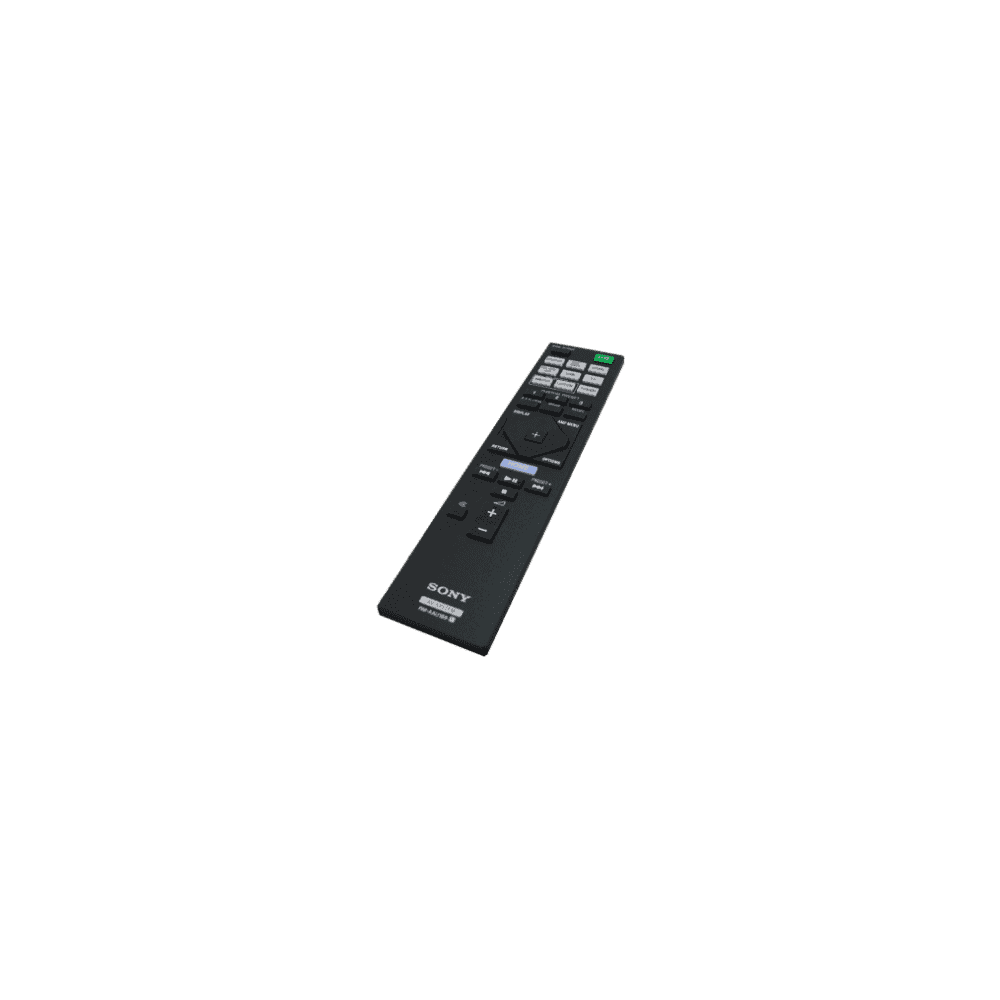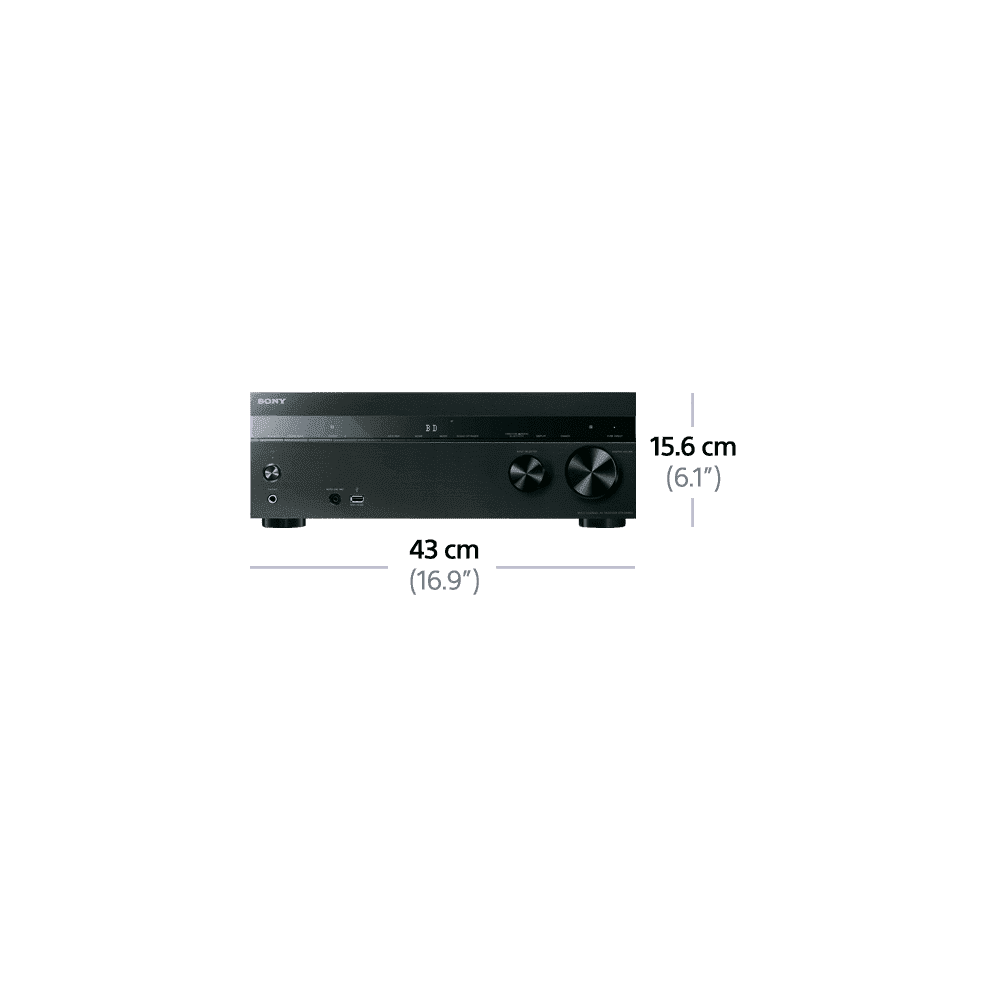 Key Features
High-Resolution Audio with Direct Stream Digital (DSD)
Enjoy studio-quality sound thanks to the Direct Stream Digital (DSD) audio codec - designed specifically for High-Resolution Audio. This 1-bit format utilises a stream of very high frequency 1s and 0s to recreate audio waveforms at a higher resolution than conventional codecs. The result is clearer, crisper, High-Resolution Audio quality. The STR-DN850 supports DSD playback via HDMI.
How High-Resolution Audio works
High-Resolution Audio works by converting analogue sound to digital at a higher and more precise rate than CDs. High-Resolution Audio can sample sound at a rate greater than 24bit/96Hz, capturing more details and subtleties, resulting in music that is as real as it gets.
7.2 channels for dynamic surround sound
Bring the power of cinematic sound home with the STR-DN850. For a truly dynamic surround sound setup there's 7.2 audio channels, delivering 150W of power output per channel - so you can connect up to 7 individual speakers. The subwoofer channel lets you connect up to two subwoofers for a more even distribution of bass around your room.
Hear the action all around you with Dolby TrueHD
Experience rich, multichannel audio with Dolby True HD - engineered to deliver 100 per cent lossless sound across movies and music. By enabling bit-rate efficiencies and reproducing near studio-quality sound, Dolby TrueHD is able to deliver unparalleled audio fidelity for Blu-ray Discs, DVDs and downloaded content.
Advanced Digital Cinema Auto Calibration
Enjoy immersive movie sound wherever you choose to sit. Advanced Digital Cinema Automatic Calibration (ADCAC) optimises audio performance to ensure well balanced sound. Use the supplied mic to measure the acoustic properties of your room in relation to where you sit, and the position of your speakers. The system adjusts and tunes sound accordingly, eliminating any weak sound spots to establish a wide, natural sound stage.
See more detail with 4K upscaling and pass-through
Body CopySee four times the detail of Full HD with 4K Ultra HD resolution. The STR-DN1050 upscales Full HD movies and TV programmes closer to 4K Ultra HD quality. See up to four times the resolution of Full HD - 4K Ultra HD brings lifelike detail to whatever you're watching. The 4K pass through feature allows 4K data from a 4K source to 'pass through' the receiver and be displayed on a 4K television or projector.
HDMI, optical digital and AV connectivity
For a flexible home entertainment setup, there's 5 HDMI inputs and 1 HDMI output, as well as optical digital and analogue AV connections. So there's room for your current equipment - including your TV, Blu-ray Disc player, and speakers - plus scope to expand
Premium construction for optimum sound
For optimum audio visual performance, the STR-DN850 uses the highest quality components and design. The rigid steel chassis uses a frame and beam design to reduce external speaker pressure for more focused sound. While a resin-coated circuit board improves structural stability and enables greater output from the power amplifier. The unique heat sink design maximises air intake into the amplifier circuit, helping to withstand unwanted sound pressure - all combining to deliver powerful, refined sound.
HD Digital Cinema Sound
Emulate the exceptional acoustics of the iconic Cary Grant Theatre at home. Developed with Sony Pictures Entertainment, HD Digital Cinema Sound is based on measurements taken at the Cary Grant Theatre - used in dubbing sound for Hollywood movie productions. So you can give every film you watch the Hollywood movie treatment.
NFC and Bluetooth connectivity
To start streaming music wirelessly, simply touch your NFC smartphone or tablet against the STR-DN850 to make a Bluetooth connection. There's no wired connections or complex setup. No NFC? No problem. You can also pair manually with Bluetooth.
Enjoy high quality Bluetooth streaming
Support for the AAC and apt-X codecs means you get better sound quality than with standard Bluetooth audio
Seamless streaming with Wi-Fi and DLNA
Body CopyAll your music is a simple connection away. Stream your favourite songs wirelessly from your smartphone, tablet, or laptop using Wi-Fi - there's no need for cables. Enjoy music from your DLNA-compatible home server or PC - DLNA acts as a data bridge across your devices.
Play music while you charge with a MHL port
Listen to music and charge your smartphone while you listen with a rear MHL port. Simply connect your smartphone to the receiver via an MHL cable to mirror content from your smartphone on the large television screen. Once connected, you can play HD video clips, MP3s or even access your favourite apps.
Unite your music with SongPal app
The SongPal app allows you to easily and intuitively manage your listening experience. Simply install it on your mobile phone to take control of music playback, device settings and more-all through one app.
Control made easy with a Graphic User Interface
It's easy to navigate your receivers' settings thanks to an intuitive home menu. Control what you watch, identify which devices are connected and choose how you want to listen with pre-set sound modes.
"Music on Demand"
Stream the latest tunes in an instant thanks to a variety of online music services, including Spotify on PlayStationMusic. Discover and stream thousands of tracks, albums, and artists, old and new. The availability of on-demand services varies by region.
Easy access to your iTunes library with AirPlay
AirPlay lets you stream high quality audio from Apple devices directly to the receiver, using your existing home network. It even allows simultaneous playback on a number of devices, so you can enjoy the same playlist in different rooms.
Specifications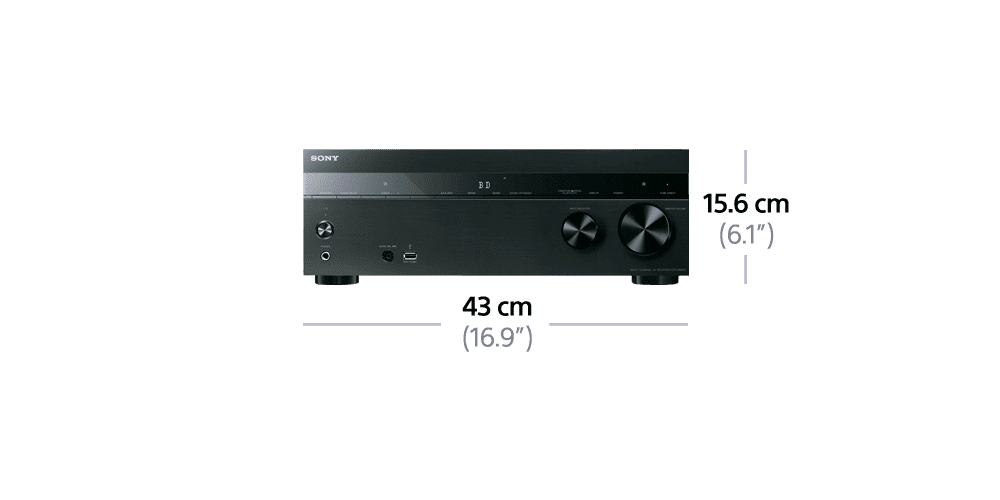 Amplifier
Portable Audio Enhancer

YES

Night Mode

YES

Sound Field Program (Headphone)

YES

Sound Field Program (2ch)

YES

HD-D.C.S. (Digital Cinema Sound)

YES

Number of Amp. Channels

7ch

Sound Field Program (A.F.D)

YES
Calibration
DCAC (Digital Cinema Auto Calibration)

YES
Decoding Formats
DTS HD/DolbyTruHD/Dolby Digital+

YES/YES/YES

Dolby Prologic

YES

Dolby Prologic II

YES

DTS-ES (MATRIX6.1/DISCRETE6.1)

YES

Dolby Digital/DTS

YES/YES

Dolby Digital EX

YES

96k/24Bit PCM

YES

Dolby Dual MoNO

YES

DTS 96/24

YES
General Features
Auto Standby

YES

GUI (Graphical User Interface)

YES
Interface
Input and Output Terminals

HDMI Video In/Out (4/1);Composite Video Input (2);Composite Monitor Out (1);Opt Audio Input (2);Coax. Audio Input (1);Analog Audio Input (4);Headphone Output;USB (1 Front:iPhone/WM);MHL (1 Rear)
Networking
Networked Standby Mode Activated – Terminals

After 19 minutes (Bluetooth)
Power
Power Consumption (Networked Standby Mode) – Terminals

1.3W (Bluetooth)

Power Consumption (Standby Mode)

0.2W
Standby
Standby Mode Activated

After 19 minutes
Tuner
Preset Channel (Sirius/XM/FM/AM)

TTL60 (-/-/30/30)

RDS

YES
Video Features
Deep Color

YES

x.v.Color (xvYCC)

YES

3D over HDMI

YES

Audio Return Channel

YES

Assignable HDMI Video IN

YES

4K Output

YES

BRAVIA® SYNC™ (CEC Control)

YES (One-Touch Play, System Audio Control, System Power Off)

A/V SYNC

YES (Fixed)

1080p/24p

YES

HDMI® Pass Through

YES
Wireless Networking
Wireless Network(s) On/Off Switch

Change the bluetooth standby setting (MENU --<gt/>Bluetooth (BT) --<gt/>BT STANDBY --<gt/>ON/OFF)
Support
Warranty
When you purchase a Sony product, you have the peace of mind in knowing that your product is covered by Sony's Standard Warranty provided by Sony Australia Limited (for Australian purchases) and Sony New Zealand Limited (for New Zealand purchases)
This product is searchable
Search for this product by using any of the following codes or IDs

STRDN850
4905524953862
STR-DN850
STR-DN850//MAU1