a7R II Digital E-Mount Camera with Back-Illuminated Full Frame Sensor (Body only)
Details
https://store.sony.com.au/interchangeablelenscamera/ILCE7RM2B.html
Product Actions
Features
Thank you for visiting Sony Store on Mark Galer's recommendation
With astonishing 42.4-megapixel image clarity, enhanced Fast Hybrid AF assuring sharpness even of moments to come, 5-axis image stabilization minimizing blur, higher-resolution 4K movie recording and other features, the a7R II packs even more innovative qualities in a compact form.
Featuring the world's first 42.4MP back-illuminated full-frame CMOS sensor
BIONZ X extra-wide ISO 50-102400 range
Enhanced Fast Hybrid AF with 399-point focal plane phase-detection AF coverage.
Define the next dimension
With an incomparable new image sensor
Now, even more comprehensive quality enters the picture. With the world's first back-illuminated 35mm full-frame CMOS image sensor with 42.4 megapixels, the Sony α7R II takes image resolution, sensitivity (up to ISO 1024004) and speedy response to new heights. The Fast Hybrid AF system's dense extra-wide focal plane phase-detection AF coverage keeps a subject in sharp focus entirely throughout the frame, while 5-axis image stabilization reduces blur which otherwise tends to affect handheld shots. High resolution is further enhanced by 4K movie recording featuring full pixel readout without pixel binning. With so much insight packed into such a compact form, it's clear that there is more to life than meets the naked eye.
Sony Imaging PRO Support



Professional photographers can have increased confidence in Sony's best-in-class digital imaging products for day-to-day business use with Sony Imaging PRO Support.

Members will receive superior support to meet their professional needs, ensuring their gear is always at the ready. Anytime. Anywhere.
Specifications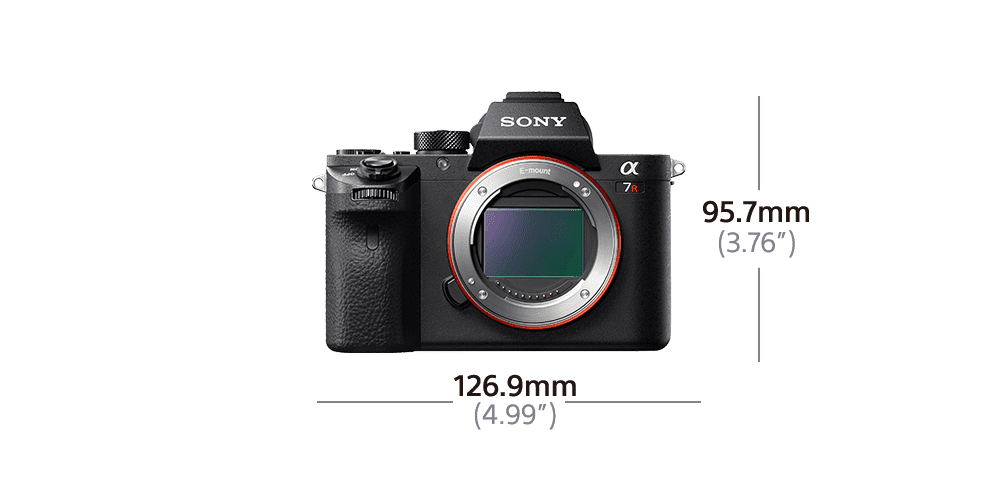 Lens Compatibility
Lens Compatibility

Sony E-mount lenses
ISO Sensitivity
ISO Sensitivity

ISO 50-25600
Sensor
Sensor

35mm full frame (35.9 x 24.0mm), Exmor R CMOS sensor
Number Of Pixels (Effective)
Number Of Pixels (Effective)

42.4 MP
Shutter
Silent Shooting

Yes, On/Off

Electronic Front Shutter Curtain

Yes, On/Off
LCD Screen
LCD Display

Graphic Display / Display All Info. / No Disp. Info. / Histogram / Digital Level Gauge / Shooting information for viewfinder mode

Display Selecter (Finder/LCD)

Auto/Manual

Screen Type

7.5 cm (3.0-type) TFT drive
Custom function
Memory Function

Yes (2 sets)
Drive
Speed (approx. max.)

Continuous shooting Hi : Max. 5fps, Continuous shooting Lo: Max. 2.5fps
Exposure
Exposure Modes

AUTO (iAUTO, Superior Auto), Programmed AE (P), Aperture priority (A), Shutter-speed priority (S), Manual (M), Movie, Sweep Panorama, Scene Selection
Flash
Flash Modes

Flash off, Autoflash, Fill-flash, Rear Sync., Slow Sync., Red-eye reduction (On/Off selectable), Hi-speed sync, Wireless

FE Level Lock

Yes
Interface
Others

Auto-lock Accessory Shoe compatible with supplied shoe adaptor, Microphone terminal (3.5mm Stereo minijack), Headphone terminal (3.5mm Stereo minijack), Vertical Grip Connector

Interfaces

Headphone minijackMicrophone minijackMulti Interface ShoeMulti/Micro USB TerminalVertical Grip Connector

HD Output

HDMI micro connector (Type-D), BRAVIA Sync (link menu), PhotoTV HD, 4K still image playback
Noise Reduction
Noise Reduction

Long exposure NR: On/Off, available at shutter speeds longer than 1 sec., High ISO NR: Normal / Low / Off selectable
White balance
White Balance Modes

Auto WB / Daylight / Shade / Cloudy / Incandescent / Fluorescent (Warm White / Cool White / Day White / Daylight) / Flash / Color Temperature (2500 to 9900K) & Color Filter (G7 to M7: 57steps, A7 to B7: 29steps) / Custom / Underwater
Battery Life (CIPA, Still Images)
Battery Life (CIPA, Still Images)

Approx. 290 shots (viewfinder) / approx. 340 shots (LCD screen) (CIPA standard)
Power
Supplied Battery

Rechargeable Battery Pack NP-FW50

Battery Life (CIPA, Movies)

Actual: Approx. 50 min. with viewfinder, approx. 55 min. with LCD screen (CIPA standard), Continuous: Approx. 95 min. with viewfinder, approx. 95 min. with LCD screen (CIPA standard)
Recording (movie)
Movie Functions

Audio Level Display, Audio Rec Level, AF Tracking Sensitivity, AF Drive Speed, Auto Slow Shutter, HDMI info. Display (On/Off selectable), Time Code/User Bit, Picture Profile, Creative Style, Picture Effect, Rec Control, Dual Video Rec, Marker Setting, PAL/NTSC Selector

Image Size (pixels), PAL*

XAVC S 4K: 3840 x 2160 (30p/100Mbps, 30p/60Mbps, 24p/100Mbps, 24p/60Mbps), XAVC S HD: 1920 x 1080 (60p/50Mbps, 30p/50Mbps, 24p/50Mbps), 1280 x 720 (120p/50Mbps), AVCHD: 1920 x 1080 (60p/28Mbps/PS, 60i/24Mbps/FX, 60i/17Mbps/FH, 24p/24Mbps/FX, 24p/17Mbps/FH), MP4: 1920 x 1080 (60p/28Mbps, 30p/16Mbps), 1280 x 720 (30p/6Mbps)

Image Size (pixels), PAL

XAVC S 4K: 3840 x 2160 (25p/100Mbps, 25p/60Mbps), XAVC S HD: 1920 x 1080 (50p/50Mbps, 25p/50Mbps), 1280 x 720 (100p/50Mbps), AVCHD: 1920 x 1080 (50p/28Mbps/PS, 50i/24Mbps/FX, 50i/17Mbps/FH, 25p/24Mbps/FX, 25p/17Mbps/FH), MP4: 1920 x 1080 (50p/28Mbps, 25p/16Mbps), 1280 x 720 (25p/6Mbps)

Image Size (pixels), NTSC*

XAVC S 4K: 3840 x 2160 (30p/100Mbps, 30p/60Mbps, 24p/100Mbps, 24p/60Mbps), XAVC S HD: 1920 x 1080 (60p/50Mbps, 30p/50Mbps, 24p/50Mbps), 1280 x 720 (120p/50Mbps), AVCHD: 1920 x 1080 (60p/28Mbps/PS, 60i/24Mbps/FX, 60i/17Mbps/FH, 24p/24Mbps/FX, 24p/17Mbps/FH), MP4: 1920 x 1080 (60p/28Mbps, 30p/16Mbps), 1280 x 720 (30p/6Mbps)
Recording (still images)
RAW Output

14 bit

Image Size (pixels), Sweep Panorama

Wide: Horizontal 12416 x 1856 (23M), vertical 5536 x 2160 (12M), Standard: Horizontal 8192 x 1856 (15M), vertical 3872 x 2160 (8.4M)

Image Size (pixels), 3:2

35mm full frame L: 7952 x 5304 (42M), M: 5168 x 3448 (18M), S: 3984 x 2656 (11M)APS-C L: 5168 x 3448 (18M), M: 3984 x 2656 (11M), S: 2592 x 1728 (4.5M)

Image Size (pixels), 16:9

35mm full frame L: 7952 x 4472 (36M), M: 5168 x 2912 (15M), S: 3984 x 2240 (8.9M)APS-C L: 5168 x 2912 (15M), M: 3984 x 2240 (8.9M), S: 2592 x 1456 (3.8M)
Storage Media
Compatible Recording Media

Memory Stick PRO Duo, Memory Stick PRO-HG Duo, Memory Stick Micro(M2), SD memory card, SDHC memory card (UHS-I compliant), SDXC memory card (UHS-I compliant), microSD memory card, microSDHC memory card, microSDXC memory card,
Viewfinder
Viewfinder Type

XGA OLED, 1.3 cm (0.5 type) electronic viewfinder (colour)
Size and Weight
Width (cm)

15.50

Height (cm)

14.50

Weight (kg)

1.79

Carton Width (cm)

15.50

Carton Height (cm)

27.00

Carton Weight (kg)

3.84
This product is searchable
Search for this product by using any of the following codes or IDs


ILCE7RM2B
4548736017733
WW325951
ILCE-7RM2/BQAP2